Technology has advanced tremendously over recent decades. Today, we have lifelike virtual reality headsets, innovative luxury watches that wind themselves, and motorcycle helmets that cut the risk of head injury by 70%. Unfortunately, even the best helmets aren't foolproof, and every rider is vulnerable to head injuries in the event of a serious crash.
While you might be entitled to compensation after sustaining a traumatic brain injury (TBI) in a motorcycle accident, recovering in the aftermath will be stressful enough without having to navigate complicated legal proceedings. Fortunately, a seasoned attorney can handle all the logistics of your case so you can focus on your health.
It's wise to familiarize yourself with the claims process before commencing the proceedings, though, so you know what to expect along the way. To help you get started, we've answered a few FAQs about motorcycle accident head injury claims:
1. Can I Still Pursue Damages If I Wasn't Wearing a Helmet?
If you weren't wearing a helmet at the time of the accident, you may still be entitled to compensation; however, the amount you end up recovering could be reduced by your own percentage of fault. Because Minnesota has a modified comparative fault rule, plaintiffs may only recover compensation for the damages for which they are not responsible. And if they're found to be more than 50 percent liable, they're barred from recovering anything at all.
2. What Kinds of Damages Can I Pursue After Sustaining a Head Injury?
In Minnesota, motorcycle accident victims who are seriously injured have the right to pursue compensation for the following damages:
• Past and future medical expenses;
• Lost wages;
• Loss of future earnings;
• Property damage;
• Alternative transportation;
• Home care;
• Domestic help;
• Child care;
• Essential home and vehicle modifications;
• Other economic damages;
• Mental anguish;
• Loss of enjoyment in life; and
• Pain and suffering.
3. How Soon After the Accident Should I Call a Personal Injury Lawyer?
Although it can take months or even years to reach maximum medical improvement after sustaining a head injury, it's wise to call an attorney as soon as your condition stabilizes. From day one, your lawyer can:
• Prevent you from making critical mistakes that could jeopardize the strength of your claim;
• Handle all correspondence with the opposing party;
• Interview eyewitnesses and accident reconstruction experts;
• Gather evidence of fault;
• Track damages;
• Calculate a fair settlement amount;
• Negotiate with the insurance adjuster on your behalf; and
• Litigate your case if necessary.
Call 800-770-7008 to Discuss Your Case with a Minneapolis Motorcycle Accident Lawyer
If you were hurt in a motorcycle accident through no fault of your own, you may have grounds for a personal injury claim. To determine the best way to proceed, contact Bradshaw & Bryant.
We combine the personalized attention of a small, local firm with the resources of a large practice. Call 800-770-7008 today or use our Online Contact Form to set up a free case evaluation with a Minneapolis motorcycle accident attorney.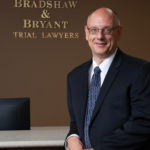 A founding partner with Bradshaw & Bryant, Mike Bryant has always fought to find justice for his clients—knowing that legal troubles, both personal injury and criminal, can be devastating for a family. Voted a Top 40 Personal Injury "Super Lawyer"  multiple years, Mr. Bryant has also been voted one of the Top 100 Minnesota  "Super Lawyers" four times.