Minnesota boasts more than 22,000 miles of groomed trails that are suitable for snowmobiling. Just because these paths are well-maintained, however, doesn't mean they're accident-proof.
Around the country, snowmobile accidents are responsible for roughly 200 deaths and an additional 14,000 injuries annually. Sadly, most of these incidents are entirely preventable. Leading causes include poor judgement, inexperience, speeding, and alcohol impairment.
If you were seriously hurt in a snowmobile accident through no fault of your own, you may be entitled to funds for medical expenses, lost wages, and other associated damages. In order to seek a payout, though, you'll have to build a strong personal injury claim.
Let's take a look at the answers to some of the most frequently questions about putting together such a claim:
Who Might Be Liable for a Snowmobile Accident? 
Before you can take action, you must identify everyone who played a role in the accident. This will allow you to pursue the maximum payout possible.
When it comes to wrecks involving snowmobiles, there are a number of parties that may be at fault. Some of the most common culprits include:
Another snowmobile operator;
Other people who were on the trails, like snowshoers or cross-country skiers;
The snowmobile rental company (or their maintenance contractor);
The government agency responsible for maintaining the trail in question; and
The vehicle or parts manufacturer.
What Kinds of Damages Can I Seek Following a Snowmobile Accident? 
The North Star State allows for the recovery of both economic and non-economic damages. Economic damages are essentially tangible losses that have a corresponding dollar amount. Examples include medical bills, lost income, replacement services, domestic help, and home and vehicle modifications.
Non-economic damages, on the other hand, are intangible losses like pain and suffering, loss of enjoyment in life, and mental anguish. While more challenging to quantify, these damages are every bit as real as their economic counterparts.    
How Long Do I Have to Take Action After Getting Hurt in a Snowmobile Accident? 
Most personal injury claims are settled. If the opposing party refuses to accept liability or to negotiate for a fair payout, though, you may have no choice but to file a formal lawsuit—and in the state of Minnesota, you'll have a limited amount of time to do so.
The standard statute of limitations for personal injury suits founded on negligence is six years; however, since there are a number of exceptions that can shorten this deadline considerably, it's wise to seek legal counsel as soon as possible after the accident. 
Call 800-770-7008 to Discuss Your Case with a Snowmobile Accident Attorney
Sustaining unanticipated injuries is utterly devastating. If you were hurt in a snowmobile accident because someone failed to exercise reasonable care, turn to Bradshaw & Bryant for help.
Our tireless team is committed to helping clients recover the compensation they need to put their lives back together after getting hurt. Call 800-770-7008 or fill out our Contact Form to schedule a free consultation with a snowmobile accident lawyer.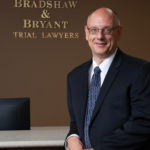 A founding partner with Bradshaw & Bryant, Mike Bryant has always fought to find justice for his clients—knowing that legal troubles, both personal injury and criminal, can be devastating for a family. Voted a Top 40 Personal Injury "Super Lawyer"  multiple years, Mr. Bryant has also been voted one of the Top 100 Minnesota  "Super Lawyers" four times.