Boasting 17 ski resorts with more than 100 lifts combined, Minnesota is a veritable haven for winter thrill seekers of all skill levels. Whether you prefer green circles or black diamonds, you'll find what you're looking for at one of the state's many mountains. And once you do, it's reasonable to assume you'll leave the resort at the end of the day unscathed.
While you accept a certain amount of risk every time you hit the slopes, that doesn't relieve the resort of all liability. Ski resorts have an obligation to maintain their trails to a reasonably safe standard. The skiers themselves also owe one another a duty of care and must abide by the established right of way rules whenever merging on trails.
Unfortunately, just because these obligations are in place doesn't mean everyone respects them. During the winter months, ski accidents occur every single day across the country. Thankfully, those who end up getting hurt are usually entitled to compensation.
If you were hurt on the slopes through no fault of your own, you can start putting together a strong claim by compiling the following pieces of evidence:
1. Footage from the Day in Question
If you or a member of your party happened to capture the incident on a helmet camera, make copies of the footage and then save the files in more than one location to ensure redundancy. Photos and videos of the day in general could also end up contributing to your claim. You might have inadvertently recorded weather conditions, snow quality, inadequate signage, or other critical evidence that will ultimately contribute to your claim.
2. Statements from Eyewitnesses
Those who saw the accident can probably provide some insight on what happened in the moments leading up to it. Assuming the statements corroborate your own telling of events, eyewitness testimony should bolster your claim.
3. The Resort's Standard Operating Procedures
If you were hurt because of a hazard on the trail, the resort's protocols—or lack thereof—may help you assign blame. Since their standard operating procedures could implicate them, though, your personal injury attorney may have to apply legal pressure to obtain them.
4. Testimony from Ski Patrol
It's not uncommon for skiers and snowboarders to imbibe on the slopes. In fact, many resorts even build lodges that serve alcohol at the top of the trails. If alcohol impairment played a role in the accident in which you were hurt, the incident report should contain testimony from ski patrol that states as much.
5. Medical Records
Your medical records will provide a tangible link between the accident and the injuries you sustained. If the insurance adjuster challenges causation, you can support these records with statements from specialists explaining how the impact is consistent with your condition.
Discuss Your Case with a Skiing Accident Attorney in Minneapolis
If you were hurt during what was supposed to be a fun day on the slopes, turn to Bradshaw & Bryant to see whether you might have grounds for a claim. Our legal team is well-versed in assumption of risk, and we know what it takes to prove liability for skiing accidents. Call 800-770-7008 or use our Online Contact Form to set up a free initial consultation with a skiing accident lawyer in Minneapolis.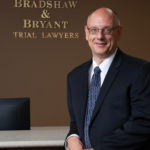 A founding partner with Bradshaw & Bryant, Mike Bryant has always fought to find justice for his clients—knowing that legal troubles, both personal injury and criminal, can be devastating for a family. Voted a Top 40 Personal Injury "Super Lawyer"  multiple years, Mr. Bryant has also been voted one of the Top 100 Minnesota  "Super Lawyers" four times.