If you were recently hurt in a car accident, a seasoned personal injury attorney can help you navigate the legal system, avoid mistakes, and fight for the highest possible settlement. But chances are you've never needed to hire an accident lawyer before, so you might not know what to expect during the initial consultation
Your first meeting with an attorney is the perfect opportunity to learn about the law firm, get answers to your questions, and find out the strengths and weaknesses of your case. To get the most value out of this consultation, be sure to ask the following questions:
What Are Your Primary Areas of Practice? 
Personal injury law is a broad practice area that encompasses everything from medical malpractice to slip and fall accidents. It's important to confirm that the lawyer has experience resolving cases that are similar to yours. For example, if you were hurt in a wreck with an impaired motorist, make sure the attorney you're considering has a track record of success in claims involving drunk driving accidents.  
Have You Helped Clients with Injuries Similar to Mine? 
If the injuries you sustained are especially serious or will require ongoing care, calculating the value of your damages can be complicated. Your attorney might need to reference multiple studies and obtain statements from various specialists. Ask about the attorney's experience in cases involving similar injuries and whether medical experts will be brought in to help with settlement calculations. 
What Is Your Fee Structure? 
Most personal injury firms work on a contingency fee basis. That means all attorney's fees come out of the final payout, so you won't have to pay anything upfront. Regardless of their specific arrangement, though, the practice you turn to should be entirely transparent about their fee structure. 
Will I Have a Direct Line of Contact to You? 
You deserve to work with a firm that offers personalized representation. Fortunately, scheduling an initial consultation can help you determine whether the attorney has sufficient time to devote to your case. Find out if you will have a direct line of contact to the lawyer, and be wary of an attorney who postpones the initial consultation. 
How Do You Think We Should Proceed? 
A knowledgeable attorney who has handled cases like yours should be able to determine the most strategic way to proceed. Although you should avoid hiring a lawyer who promises a particular outcome since this demonstrates a lack of integrity, you should feel confident that your attorney has the knowledge and experience to investigate your claim and represent your interests. 
Call 800-770-7008 to Speak with a Car Accident Lawyer in Minneapolis 
If you were hurt in a motor-vehicle collision through no fault of your own, contact Bradshaw & Bryant to discuss your case. From the moment you call our office to the day your claim is resolved, you will be treated with the utmost compassion, professionalism, and respect. Call 800-770-7008 or use our Online Contact Form to set up a free case evaluation with a car accident attorney in Minneapolis.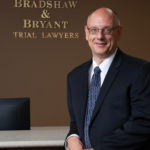 A founding partner with Bradshaw & Bryant, Mike Bryant has always fought to find justice for his clients—knowing that legal troubles, both personal injury and criminal, can be devastating for a family. Voted a Top 40 Personal Injury "Super Lawyer"  multiple years, Mr. Bryant has also been voted one of the Top 100 Minnesota  "Super Lawyers" four times.