Running errands around the holidays can be hazardous, and not just because of overzealous bargain shoppers. While it's true that 11 people have died—and more than 100 have sustained injuries—in Black Friday-related incidents since 2006, the real danger lies in parking lots and on sidewalks.
Every year, sleet, snow, and ice are responsible for tens of thousands of injuries that require at least one day off work to recover. If you suffer such an injury this holiday season, take these steps in the aftermath to improve your chances of holding the liable party financially accountable:
1. Photograph the Conditions
Since the snow or ice you slipped on will inevitably melt, it's essential that you photograph the scene before leaving the area. If the accident occurred in a fairly developed area, there's also a chance it was captured by nearby surveillance cameras. Should this be the case, your attorney will reach out to the owners of any such footage as soon as possible because it might only be available for a short period of time.
2. Notify the Property Owner
If you were hurt in front of a business establishment, request an incident report from the owner or manager on duty. If you were hurt on residential property, inform the owner or occupier and make a note of their insurance policy number.
3. Seek Medical Care
If you don't require medical attention at the scene, visit your primary care provider or a local urgent care center as soon as possible. Even a seemingly minor slip and fall can cause debilitating injuries, especially if you landed on your head, neck, or back.
Seeking prompt medical care will ensure you receive sufficient treatment for your injuries including those that are not immediately apparent. It will also demonstrate a commitment to mitigating damages, which could prevent a dispute down the road.
4. Track Damages
In the state of Minnesota, personal injury claimants may seek compensation for a variety of compensatory damages including medical expenses, lost wages, and pain and suffering. In order to secure a fair settlement, you will have to prove the value of the damages you incurred.
It's important to start tracking your losses from day one. You can do this by saving all relevant records, receipts, and invoices. You should also photograph the progression of any visible injuries and start a journal in which you document the recovery process.
5. Call a Slip and Fall Lawyer
A premises liability lawyer can help you build a personal injury claim against those responsible. Your attorney will use the firm's resources to conduct a thorough investigation into the incident and help you gather the evidence needed to prove negligence and the value of your damages.
Call 800-770-7008 to Speak with a Premises Liability Attorney in Minneapolis
If you slipped on ice outside a business establishment or private residence, contact Bradshaw & Bryant to determine the most strategic way to proceed. For six consecutive years, attorney Michael Bryant has been recognized as a Super Lawyer and has been named among Minnesota's Top 40 Personal Injury Lawyers by Minnesota Law & Politics. Call 800-770-7008 or use our Online Contact Form to set up a free case review with a premises liability lawyer in Minneapolis.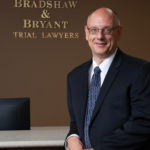 A founding partner with Bradshaw & Bryant, Mike Bryant has always fought to find justice for his clients—knowing that legal troubles, both personal injury and criminal, can be devastating for a family. Voted a Top 40 Personal Injury "Super Lawyer"  multiple years, Mr. Bryant has also been voted one of the Top 100 Minnesota  "Super Lawyers" four times.