Because car accident injuries can result in significant financial loss, every state has procedures in place for helping victims seek compensation. In Minnesota, for example, you can file a third-party claim against the liable motorist's carrier if you incur more than $4,000 in reasonably necessary medical expenses. Those who suffer disfigurement, permanent injury, or disability for at least 60 days are also entitled to take action.
What if the liable motorist doesn't have enough—or any—insurance, however, to cover the damages? After all, not everyone buys auto insurance or maintains an active policy, despite the fact that the state requires as much.
Fortunately, for those struck by uninsured or underinsured motorists, there are often other avenues of compensation. Should you end up having to pursue an alternative claims route, start by taking the following steps:
1. Preserve Evidence from the Scene
If you managed to photograph the wreckage or obtain the names and phone numbers of those who witnessed the crash, make copies of everything to ensure redundancy, and then put them in a safe place. Whether you end up filing a claim with your own carrier under your uninsured/underinsured motorist coverage or against other insured parties, like a vehicle manufacturer or the municipality that should have been maintaining the roads, you're going to need to prove liability.
Accident reconstruction experts can help you assign blame by reviewing the images of the scene to determine what happened in the seconds leading up to the crash. Likewise, eyewitness testimony can bolster your own version of events.
2. Track Injury-Related Expenses
Insurance carriers will compensate car accident victims for both their economic and non-economic damages—as long as they can prove them. Therefore, it's imperative to save all the receipts and invoices that correspond to your medical bills and replacement services. You should also preserve paystubs detailing your missed work.
As for proving non-economic damages like pain and suffering, it's advisable to start a journal. Write daily entries about your condition and how it's affecting your quality of life.
3. Enlist Legal Help
Car accident claims involving uninsured motorists have an added layer of complexity. Since you're going to have to find alternate sources of compensation, it's wise to seek help from someone who is well-versed in tort law. A resourceful personal injury lawyer will leave no stoned unturned when pursuing the funds you need to make your life whole again.
4. Refer All Correspondence to Your Personal Injury Attorney
Your lawyer will serve as an intermediary between you and the opposing party, so they cannot manipulate you into admitting fault, accepting a low settlement, or otherwise jeopardizing your claim.
5. Stay off Social Media
Until your claim has been resolved, it's best to avoid posting about it on social media. In fact, you should avoid posting about your life at all, since the insurance adjuster could try to spin what you publish in such a way that it can be used to challenge your credibility.
Speak with a St. Cloud Car Accident Attorney
If you were struck by an uninsured or underinsured motorist, contact Bradshaw & Bryant to determine how best to proceed. Our legal team is well-versed in both first- and third-party claims, and we can help you take the steps needed to file either. Call 320-259-5414 or complete our Online Contact Form to schedule a free, no obligation case evaluation with a car accident lawyer in St. Cloud.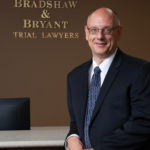 A founding partner with Bradshaw & Bryant, Mike Bryant has always fought to find justice for his clients—knowing that legal troubles, both personal injury and criminal, can be devastating for a family. Voted a Top 40 Personal Injury "Super Lawyer"  multiple years, Mr. Bryant has also been voted one of the Top 100 Minnesota  "Super Lawyers" four times.