It is amazing how much security continues to change at airports. Now there is a central place that is a TSA pre-approved checkpoint. In reviewing the website, it looks like someone can go in advance and get pre-approval so that they are able to go through the checkpoint without taking their shoes off. It is really almost quite similar to the way it used to be going through security. It seems to be an efficient way for a person to save a lot of time and, in the right airport, it can make a huge difference.
In watching people move through security, it is amazing to watch how many different lines that they are using. When I recently flew out of Tampa Bay, there were four or five different lines that people could go into depending on what their circumstances were. Some of them looked to go towards efficiency, others seemed to go towards totally confusing people on where they should be.
Everybody is usually a little worked up or because of timing issues can be running late. Consequently, anything that can be done to make this a safer and quicker process would make a huge difference in people's experiences.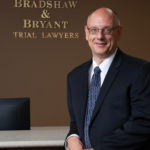 A founding partner with Bradshaw & Bryant, Mike Bryant has always fought to find justice for his clients—knowing that legal troubles, both personal injury and criminal, can be devastating for a family. Voted a Top 40 Personal Injury "Super Lawyer"  multiple years, Mr. Bryant has also been voted one of the Top 100 Minnesota  "Super Lawyers" four times.