As the temperature drops, the risk of slipping and falling increases. Snow and ice make for slick sidewalks, and during the winter months, even a minor errand can result in a major catastrophe.
If you were seriously hurt because a property owner failed to clear their premises in a timely manner, you may be entitled to compensation for the resulting damages. In order to recover a payout, though, you'll have to gather strong evidence of both liability and losses. You'll also have to avoid making critical mistakes over the course of the proceedings.
Let's take a look at some of the most common mistakes that slip and fall claimants tend to make when seeking funds for their damages:
1. Posting About the Accident on Social Media
The insurance adjuster will undoubtedly try to monitor your online activity in an attempt to find cause to challenge your claim. Since there's no way to be sure how the things you post could be used against you, it's wise to stay off social media as long as your case is pending. If you cannot disable your accounts temporarily, you should at least update your privacy settings so only approved connections can see what you publish.
2. Putting off Medical Care
Personal injury claimants have an obligation to take reasonable measures to mitigate damages. This starts with seeking prompt medical care after the accident.
Since there are a number of impact injuries that can have latent symptoms, it's essential that you undergo a comprehensive evaluation as soon as possible, even if you feel relatively fine. If you postpone treatment and suffer complications as a result, you could be deemed partially liable for the associated damages.
3. Accepting a Premature Payout
If you slipped and fell at a place of business, the owner or operator may try to resolve the issue internally. They may even offer a sizable payout if you're willing to waive your right to sue.
While it might be tempting to accept such an offer—especially if your medical bills are adding up fast—you're likely entitled to considerably more than anything they propose. Generally speaking, you shouldn't agree to anything until you consult a strategic slip and fall attorney.
4. Overlooking Recoverable Damages
Did you know personal injury claimants in Minnesota may seek compensation for a lot more than just their medical bills and lost wages? Other recoverable damages include lost earning capacity, domestic help, reasonably necessary replacement services, home and vehicle modifications, pain and suffering, mental anguish, and loss of enjoyment in life.
A seasoned lawyer can help you track all such damages—and compile the evidence needed to prove their extent—so you can include them in the settlement negotiations.
Speak with a Minneapolis Premises Liability Attorney
At Bradshaw & Bryant, we understand the devastating toll that unanticipated injuries can take on the whole family. If you slipped and fell on someone else's property, our resourceful team will help you gather the evidence needed to pursue the compensation you deserve. Call 800-770-7008 or fill out our Contact Form to schedule a free consultation with a premises liability lawyer in Minneapolis.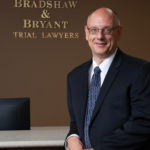 A founding partner with Bradshaw & Bryant, Mike Bryant has always fought to find justice for his clients—knowing that legal troubles, both personal injury and criminal, can be devastating for a family. Voted a Top 40 Personal Injury "Super Lawyer"  multiple years, Mr. Bryant has also been voted one of the Top 100 Minnesota  "Super Lawyers" four times.