Seat belts remain the single most important safety device in motor vehicles. While innovative features like blind spot detection and lane departure warning can help prevent collisions, a proper restraint system will actually reduce the severity of injuries in the event of a wreck.
For those riding in the front, seat belts reduce the risk of serious injury by 50 percent (and the risk of death by 45 percent). Because seat belts save lives, 49 states have implemented some kind of law mandating their usage.
In Minnesota, for example, failing to wear a seat belt is considered a primary offense. That means police may conduct a traffic stop—and issue a ticket the driver—if a single occupant is unrestrained.
Because of the state's seat belt law, you may be wondering if you're entitled to compensation after forgetting to buckle up and then getting hurt in a truck accident. While it's certainly possible that the insurance adjuster will dispute liability and assert that you are partially responsible for your injuries, you may still be able to recover compensation for at least a portion of the damages. And depending on the circumstances, a resourceful attorney may be able to help you recover 100 percent of your damages.
Read on to learn the answers to some of the most frequently asked questions about these cases:
1. How Could Not Wearing a Seat Belt Impact My Truck Accident Claim?
Because wearing a seat belt is required by law in Minnesota, people who suffer injuries while unbelted may not be able to recover compensation for 100 percent of their damages. The opposing party will likely assert that your injuries would have been less severe if you had buckled up. You may therefore be assigned a percentage of fault, and your damages award could be reduced by that percentage.
2. What Kinds of Damages Can I Pursue by Filing a Truck Accident Claim?
If you meet Minnesota's threshold for bypassing the state's no fault system—generally speaking, you must have incurred more than $4,000 in medical expenses or suffered permanent injury, disfigurement, or at least 60 days of disability—you can bring a claim against the at-fault driver or their liability insurance company. Potentially recoverable damages include:
• Healthcare-related expenses including past and future medical bills;
• Lost income and benefits;
• Loss of future earnings;
• Property damage;
• Alternative transportation;
• Any vehicle or home modifications necessary for accommodating new limitations;
• Other economic damages;
• Mental anguish;
• Humiliation;
• Pain and suffering; and
• Loss of life enjoyment.
3. How Can I Prove a Seat Belt Would Not Have Reduced the Severity of My Injuries?
You may be able to recover compensation for 100 percent of your damages if you can prove that your injuries would have been just as severe had you been restrained. Valuable evidence may include:
• Medical records;
• Deposition from medical experts and an accident reconstruction expert;
• Photographs of the wreckage;
• Data from the truck's black box;
• Dash cam recordings; and
• Footage from surveillance cameras that captured the collision.
Discuss Your Claim with a Truck Accident Attorney in Minneapolis
At Bradshaw & Bryant, we take great pride in helping accident victims and their families recover the compensation they need to move on with life. Call 800-770-7008 or use our Online Contact Form to set up a free case review with a truck accident lawyer in Minneapolis.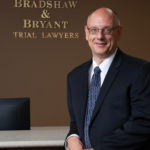 A founding partner with Bradshaw & Bryant, Mike Bryant has always fought to find justice for his clients—knowing that legal troubles, both personal injury and criminal, can be devastating for a family. Voted a Top 40 Personal Injury "Super Lawyer"  multiple years, Mr. Bryant has also been voted one of the Top 100 Minnesota  "Super Lawyers" four times.