Getting in any kind of auto accident is inherently stressful. Even a minor fender-bender can cause whiplash and other soft tissue injuries, not to mention several thousand dollars in property damage. When a collision involves a tractor-trailer, there's an especially high chance that those involved will suffer catastrophic injuries.
Due to the devastation that these accidents can cause, it can be hard to remain calm in their aftermath. If you were hurt in a wreck with an 18-wheeler, though, there are several steps you should take immediately—and over the days and weeks that follow—to give your personal injury claim the best chance of success. For instance, you should gather evidence at the scene, undergo an immediate medical evaluation, and contact an attorney for guidance.
There are also mistakes you must avoid to protect your case. Such mistakes include:
1. Apologizing at the Scene
For many people, apologizing to others is a natural response to trauma regardless of whether they are actually to blame for the incident in question. Since your apology could be interpreted as an admission of fault, though, it is best to avoid saying you're sorry.
2. Failing to Document the Scene
Photographs of the wreckage could be invaluable when it comes to proving negligence, causation, and damages. Should a liability dispute arise, your personal injury attorney may show these photos to an accident reconstruction expert, who can review them closely and try to determine what happened in the moments leading up to the crash.
3. Postponing Medical Care
Some impact injuries do not manifest symptoms right away, but they can cause serious complications if left untreated. As such, it is important to seek medical care immediately after any collision, regardless of how you actually feel.
Visiting a doctor shortly after the accident will also demonstrate a commitment to facilitating your medical recovery. This may prevent a dispute regarding a failure to mitigate damages, which has the potential to reduce your financial award.
4. Posting on Social Media
Truck accident victims should stay off social media because there's no way to predict how the opposing party might misinterpret or misrepresent their photos, videos, and statuses. If you cannot disable your accounts even temporarily, be sure to update your privacy settings.
Adjust your profiles so they are only visible to approved friends and followers, and avoid accepting new requests unless you know the connection personally. While the insurance adjuster may still be able to monitor your social media presence through third-party connections, stricter privacy settings will provide an added hurdle.
Discuss Your Claim with a Truck Accident Lawyer in Minneapolis
If you were hurt in a truck accident, contact Bradshaw & Bryant. We understand the physical, emotional, and financial toll that a serious collision can have on your life. We will do everything in our power to help you fight for the compensation you deserve.
We use cutting-edge technology, first-rate experts, and our in-depth knowledge of the relevant case law and statutes to provide exceptional representation. Call 800-770-7008 or use our Online Contact Form to set up a free case evaluation with a truck accident attorney in Minneapolis.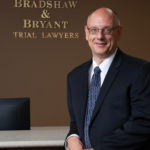 A founding partner with Bradshaw & Bryant, Mike Bryant has always fought to find justice for his clients—knowing that legal troubles, both personal injury and criminal, can be devastating for a family. Voted a Top 40 Personal Injury "Super Lawyer"  multiple years, Mr. Bryant has also been voted one of the Top 100 Minnesota  "Super Lawyers" four times.