It is vital to everyone involved that we see each other on the road. With motorcycles, both the rider, and all other drivers need to know that they are out there. We deal with a number of motorcycle riders and I am always impressed with how vigilant they are. They can provide examples of how they are all extra careful on the road.
I've written in the past about how they can protect themselves by ensuring they have the correct insurance coverages:
Buying Motorcycle Coverage in Minnesota, Mike Bryant | May 07, 2011 9:33 AM
And others here at the Injuryboard have included subjects such as:
Motorcycle Safety Awareness Month: Share the Road, John Inserra | May 15, 2011 10:35 AM
Sharing The Road With Motorcycles, Mark Bello | May 02, 2011 9:54 AM
Motorcycle Design Issues, Larry Coben | April 13, 2011 9:41 PM
Motorcycle Awareness Month Coming to North Carolina, Pierce Egerton | March 16, 2011 2:31 PM
Recently the Minneapolis police addressed the issue and pointed out:
In 2009 alone, 53 motorcyclists were killed and roughly 12-hundred more injured as a result of a crash on Minnesota roadways.
It's clear that the road is big enough for everyone. Let's make sure we look out for each other.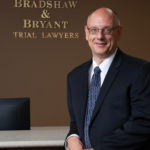 A founding partner with Bradshaw & Bryant, Mike Bryant has always fought to find justice for his clients—knowing that legal troubles, both personal injury and criminal, can be devastating for a family. Voted a Top 40 Personal Injury "Super Lawyer"  multiple years, Mr. Bryant has also been voted one of the Top 100 Minnesota  "Super Lawyers" four times.