On August 1, the Hands Free Law will go into affect in Minnesota.   Basically, unless it's a real emergency,  you can't have your phone in your hands while driving.  We each have a month to figure out how we are going to comply.   It is important that we each ask our self if this is really a big deal.   If you hate what you are seeing on the roads right now,  it is time that you help stop it.  Put the phone down.
I was on KQ92 radio for an interview about this topic and a couple of listeners asked, "What about the police? Do they have to comply?"
My response was that like all of us, they have to make this new law  important.  We need to lead by example.   That when I go in front of a class of kids,  I can easily say "NO"  when a student asks: "But don't you do it?"
The best thing about the seat belt law is that all of our new drivers have grown up with them.  So they have no problem using a belt.  But,  that same group uses a phone as a communication, entertainment,  and near best friend.   They don't remember a time when they didn't exist.   So we have to show them.
Each and every one of us have to stop with the poor comparisons and reasons why we will have problems following the law and follow it to a tee.   Go back to listen to the radio,  talk to each other,   and most of all simply watch the road and get everyone home safe.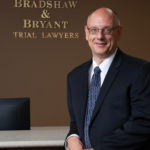 A founding partner with Bradshaw & Bryant, Mike Bryant has always fought to find justice for his clients—knowing that legal troubles, both personal injury and criminal, can be devastating for a family. Voted a Top 40 Personal Injury "Super Lawyer"  multiple years, Mr. Bryant has also been voted one of the Top 100 Minnesota  "Super Lawyers" four times.