Drowsy driving is responsible for hundreds of traffic fatalities every year. Not only does fatigue slow reaction time, but it also makes motorists inclined to nod off behind the wheel.
While anyone can end up driving while drowsy, truckers are notorious for doing so because of the demands of their job. Sadly, the consequences are often catastrophic when they do.
If you were struck by a drowsy trucker, you may be entitled to compensation for the damages you incur in the wake of the wreck. In order to pursue a payout, though, you'll have to prove that the trucker was in fact liable for the incident.
Let's take a look at some of the most valuable evidence that may contribute to the strength of your claim:
1. Logs & Other Data from the Motor Carrier
The Federal Motor Carrier Safety Administration limits how much time commercial drivers can spend behind the wheel before stopping to rest. If you can prove the trucker violated the Hours of Service regulations, you can imply that drowsy driving likely played a role in the accident.
Evidence that points to a violation might include:
• Driver's logs;
• Black box data;
• Toll booth receipts;
• Weigh station records;
• Bills of lading;
• GPS data;
• Cell phone records; and
• Food, fuel, and lodging receipts.
2. Statements from Accident Reconstruction Experts
Accident reconstructions experts can usually determine what happened in the moments leading up to a collision by evaluating photographs of the wreckage. For example, they should be able to tell whether the trucker took any evasive maneuvers prior to crashing. If he or she didn't, it may have been because he or she had nodded off behind the wheel.
3. Eyewitness Deposition
Other motorists, passengers, and/or pedestrians who were in the vicinity when the accident occurred may have seen the trucker fall asleep in traffic. While their testimony won't serve as irrefutable evidence, it will support your own telling of events.
4. Any Available Video Footage
Nowadays, a lot of people have dash cameras on their vehicles. That means there's a good chance that video footage of the incident exists. This is why it's so important to obtain the names and phone numbers of those at the scene before you leave the area.
If the accident occurred in a fairly developed area, there may also be surveillance footage of it. Your legal team will reach out to the business owners in the vicinity to obtain any such footage if it exists. It's important to act fast, though, because they're under no obligation to retain the footage indefinitely.
Speak with a Minneapolis Truck Accident Lawyer
If you were seriously hurt in a truck accident, contact Bradshaw & Bryant to determine the most strategic way to proceed. For six consecutive years, attorney Michael Bryant has been recognized as a SuperLawyer and has been named among Minnesota's Top 40 Personal Injury Lawyers by Minnesota Law & Politics. Call 800-770-7008 or fill out our Contact Form to schedule a free consultation with a truck accident attorney in Minneapolis.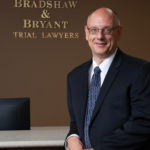 A founding partner with Bradshaw & Bryant, Mike Bryant has always fought to find justice for his clients—knowing that legal troubles, both personal injury and criminal, can be devastating for a family. Voted a Top 40 Personal Injury "Super Lawyer"  multiple years, Mr. Bryant has also been voted one of the Top 100 Minnesota  "Super Lawyers" four times.