A wrongful death in the family often comes with substantial costs for surviving loved ones. Besides funeral and burial expenses, it may be difficult to pay essential bills if the deceased was a primary source of income. For this reason, most wrongful death lawyers offer free consultations and work on a contingency fee basis, which means you won't have to pay attorneys' fees unless the case is resolved in your favor.
What Are the Advantages and Drawbacks of Contingency Fees?
Every fee structure has its pros and cons, and the contingency arrangement is no different. The biggest advantage of hiring a wrongful death attorney on a contingency fee basis is the fact that your legal team will have a stake in the outcome of the case. Your attorney won't get paid unless the case is resolved in your favor, which means he or she will have plenty of incentive to invest the time and resources needed to provide the best possible representation. Law firms that handle claims for a flat, upfront rate may not be willing to devote extra time to your case if an unexpected issue arises.
Contingency fees also ensure clients won't have to pay attorneys' fees if the case does not yield a payout. That means you can take legal action without worrying about making a significant upfront investment.
The only disadvantage of contingency fees is the fact that clients aren't entitled to 100 percent of the compensation they end up recovering. The attorney will be paid a percentage of the final settlement or verdict, which might be calculated before or after deducting various costs of representation such as expert witness fees. Generally speaking, this is by far the best fee arrangement for people who have lost a loved one due to wrongful death.
How Can I Establish a Contingency Fee Arrangement?
Not all law firms take cases on contingency, so it is important to establish the fee structure during your initial consultation. You can simply ask the lawyer how the practice will bill you.
Regardless of whether the practice is willing to accept a contingency arrangement, they should be upfront and transparent about their fee structure. Do not hire a lawyer who isn't clear about your financial obligations from day one. Even if you hire an attorney on a contingency fee basis, you should find out which costs, if any, are not contingent on the outcome of your case.
Discuss Your Claim with a Wrongful Death Attorney in Minneapolis
If you recently lost a loved one and you think your family has grounds for a wrongful death claim, contact Bradshaw & Bryant. Our strategic team will prepare your case for trial even if a settlement is the expected outcome.
We understand how devastating the loss of a family member can be, which is why we always provide aggressive and compassionate representation in these cases. We can come to you if you are unable to come to us. Call 800-770-7008 or use our Online Contact Form to set up a free consultation with a wrongful death lawyer in Minneapolis.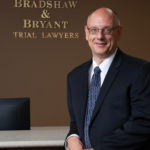 A founding partner with Bradshaw & Bryant, Mike Bryant has always fought to find justice for his clients—knowing that legal troubles, both personal injury and criminal, can be devastating for a family. Voted a Top 40 Personal Injury "Super Lawyer"  multiple years, Mr. Bryant has also been voted one of the Top 100 Minnesota  "Super Lawyers" four times.