It's not uncommon for motorcycle accidents to cause catastrophic injuries. Brain trauma, spinal cord damage, and soft tissue injuries can take months or even years to heal. Some victims never make a full recovery. As such, the lawsuits arising from these accidents often involve significant damages.
If you were hurt in a motorcycle accident, you're probably wondering how much your case might be worth. Because every case is different, however, there's no way to approximate the potential value of your claim before knowing the facts. Also, no attorney can guarantee a particular payout no matter how strong your case seems.
You may find it helpful to know the factors that could influence the potential settlement or verdict. They include:
1. The Extent of Your Injuries
The severity and permanence of your injuries will likely have a major impact on the settlement calculations. More extensive injuries tend to warrant higher compensation for past and future medical bills. They can also lead to greater pain and suffering as well as more time out of work.
2. Whether You Contributed to the Accident
Because Minnesota has a modified comparative fault rule, the role you played in the accident can influence your financial recovery. If it turns out that you were partially liable for the collision, the settlement or verdict will be reduced by your own percentage of fault. And if it is determined that you were more than 50 percent liable, you will be barred from recovering anything at all.
3. The Insurance Company's Willingness to Cooperate
If the insurance company refuses to pay a fair settlement, your lawyer may advise filing a lawsuit. Litigation usually comes with added costs that can affect your net recovery.
4. Whether You've Made Any Critical Mistakes
Your own statements and actions could influence the amount of compensation you ultimately recover. For instance, if you give a statement to the opposing party rather than letting your attorney handle this correspondence, what you say might be taken out of context to dispute liability, causation, or damages. And if you fail to mitigate your damages—for instance, by ignoring your doctor's instructions—the opposing party might refuse to cover 100 percent of your losses.
5. Whether Punitive Damages Are Warranted
The nature of the defendant's misconduct can also influence the final recovery. If the defendant exhibited a deliberate disregard for your rights or safety, you may be entitled to a punitive award in addition to compensatory damages.
Call 800-770-7008 for a Free Consultation with a Minneapolis Motorcycle Accident Attorney
At Bradshaw & Bryant, we understand the physical, emotional, and financial toll serious injuries can take on the whole family. That's why we fight tirelessly on behalf of motorcycle accident victims and their loved ones.
We believe in providing clients with the attentive guidance, tailored legal solutions, and straightforward answers they deserve. Call 800-770-7008 or use our Online Contact Form to set up a free consultation with a motorcycle accident lawyer in Minneapolis.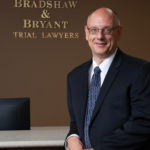 A founding partner with Bradshaw & Bryant, Mike Bryant has always fought to find justice for his clients—knowing that legal troubles, both personal injury and criminal, can be devastating for a family. Voted a Top 40 Personal Injury "Super Lawyer"  multiple years, Mr. Bryant has also been voted one of the Top 100 Minnesota  "Super Lawyers" four times.