If you file a personal injury claim, a number of factors can impact the settlement negotiations. If you intend to bring a third-party insurance claim, you will have to prove liability, causation, and damages to recover compensation.
Below we have provided an overview of these three elements and how they can influence the potential value of a case:
1. Liability
If you played a role in the accident in which you were hurt—or you somehow influenced the severity of the injuries you sustained by failing to mitigate damages—your potential payment might be reduced. Under Minnesota's modified comparative fault rule, a defendant's liability is lowered in proportion to the plaintiff's own liability. Plaintiffs who are found more than 50 percent liable—or more than 49 percent liable if there are at least two other opposing parties—are barred from recovering anything at all.
If you were struck by a negligent driver, for example, but you were speeding at the time, you might be deemed 20 percent at fault. Assuming you incur $50,000 in total damages, you would only be able to seek $40,000, or 80 percent of your total losses, from the impaired motorist.
2. Damages
Under some circumstances, Minnesota allows for the recovery of both economic and non-economic damages. These include:
• Emergency medical care;
• Ongoing rehabilitation and other medical bills;
• Home care;
• Prescription drugs;
• Lost wages;
• Loss of earning capacity;
• Replacement services;
• Home and vehicle modifications;
• Mental anguish;
• Loss of enjoyment in life; and
• Pain and suffering.
In some scenarios, claimants are also entitled to punitive damages. Such damages may be warranted if the defendant acted with deliberate disregard for the plaintiff's rights or knew his or her conduct had a high probability of causing injury but proceeded anyway.
3. Insurance Coverage
Most personal injury payouts are limited by the available insurance coverage. As such, it is important to identify all potentially liable parties in the earliest stages of the proceedings since this might increase the chances that each defendant will have sufficient insurance to cover their portion of your damages.
If the defendant's coverage limits are too low, it may be possible to file a claim against one of your own policies for additional compensation. If you were hurt in a car accident, for example, and you have underinsured motorist coverage, you can seek compensation from your own insurer up to the policy's limits.
Call 800-770-7008 Today to Speak with a Personal Injury Lawyer in Minneapolis
At Bradshaw & Bryant, we understand the emotional and financial toll that unanticipated injuries can take on the whole family. If you were seriously hurt through no fault of your own, we will help you gather the evidence needed to pursue damages from all responsible parties.
If you are unable to come to our office, a member of our team can come to you. Call 800-770-7008 or fill out our Contact Form to schedule a free consultation with a personal injury attorney in Minneapolis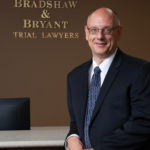 A founding partner with Bradshaw & Bryant, Mike Bryant has always fought to find justice for his clients—knowing that legal troubles, both personal injury and criminal, can be devastating for a family. Voted a Top 40 Personal Injury "Super Lawyer"  multiple years, Mr. Bryant has also been voted one of the Top 100 Minnesota  "Super Lawyers" four times.