Neck and back injuries are fairly common among car accident victims. Forceful impacts can cause soft tissue damage, herniated or ruptured discs, fractured vertebrae, and even spinal cord damage. They can also lead to the development of conditions like radiculopathy and spondylolisthesis.
If you're suffering from neck or back pain following a motor-vehicle collision, you may be entitled to compensation for all associated costs. In order to build a strong claim, though, you'll need evidence to prove the types of damages incurred and their value. Since not all back injuries can be seen on X-rays, CT scans, or MRI images, proving damages can be challenging without the help of a skilled personal injury attorney.
An accident lawyer can investigate your case to determine the types of damages that can be used to support your claim. Such evidence may include:
Medical records;
Photographs of any visible bruises, lacerations, or inflammation;
Statements from medical experts explaining the diagnosis and treatment;
Scientific reports on the long-term prognosis of injuries like yours;
Journal entries detailing the ways in which the symptoms are affecting your everyday life; and
Testimony from friends, family members, and coworkers about the changes they've witnessed regarding your mobility and overall quality of life since the accident.
What Kinds of Damages Can I Pursue After a Car Accident? 
In the state of Minnesota, personal injury claimants have the right to pursue compensation for both economic and non-economic damages, which may include:
All resulting medical expenses;
Lost wages;
Lost benefits and loss of future earning capacity;
Child care;
Domestic help;
Transportation;
Necessary home and vehicle modifications;
Property damage;
Mental anguish;
Loss of enjoyment in life;
Loss of companionship or consortium;
Humiliation; and
Pain and suffering.
In certain scenarios, claimants may also be entitled to punitive damages. Although rarely awarded to car accident victims, punitive damages might apply if the liable party's conduct exhibited a deliberate disregard for the rights, safety, or health of others.
Should I Hire an Attorney for Help Gathering Evidence? 
Hiring an attorney is especially important after suffering a back injury since these cases tend to involve substantial damages, which means the insurance company has plenty of incentive to dispute the claim. A seasoned accident lawyer can gather evidence of liability and damages, arrange testimony from medical and financial expert witnesses, and calculate your damages so you don't leave any money on the table. If the insurance adjuster is uncooperative, your lawyer can represent your interests during litigation. 
Call 800-770-7008 for a Free Consultation with a Minneapolis Car Accident Attorney
If you or someone you love sustained a back injury in a motor-vehicle collision in Minnesota, contact Bradshaw & Bryant to discuss your case. We will answer all of your questions, conduct a thorough investigation, and help you navigate every step of the proceedings. Call 800-770-7008 or use our Online Contact Form to set up a free consultation with a car accident lawyer in Minneapolis.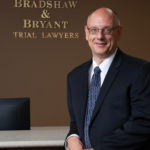 A founding partner with Bradshaw & Bryant, Mike Bryant has always fought to find justice for his clients—knowing that legal troubles, both personal injury and criminal, can be devastating for a family. Voted a Top 40 Personal Injury "Super Lawyer"  multiple years, Mr. Bryant has also been voted one of the Top 100 Minnesota  "Super Lawyers" four times.