If you were hurt while using a defective product only to find out later that it had been recalled, you may be wondering if you can still recover compensation for the resulting medical bills, lost income, and other damages. The short answer is "maybe." Just because a manufacturer issued a recall doesn't mean the company is immune from product liability claims; however, there are several elements that must be proven in order to recover an award of damages.
Read on to learn how a recall may (or may not) affect your claim:
A Recall Doesn't Make the Manufacturer Automatically Liable for Injuries 
It's a common misconception that by issuing a recall, a manufacturer becomes automatically liable for any damages that result from using the product in question. After all, recalls are often issued for products that pose an unreasonably high risk of injury to consumers.
While a recall may help you prove the existence and source of the defect, it's not the only evidence you'll need to win a settlement. You must also be able to prove that the defect was the proximate or actual cause of your injury (or your loved one's death), as well as the value of the damages incurred.
If a recall was issued for the product that injured you, it's important to find out how the manufacturer handled the recall. There are many ways a manufacturer can notify consumers about a product defect, but if their efforts were insufficient—for example, if they just posted a notice on their website—the manufacturer may still be held liable for injuries caused by the product after the recall. A seasoned product liability attorney can investigate the recall to find out if the manufacturer was negligent regarding how consumers were notified.
A Recall Doesn't Make the Manufacturer Immune from Claims
Just because a product manufacturer issued a recall doesn't mean the company is immune from claims. Manufacturers have a duty to ensure their products are reasonably safe when used for their intended purpose. If a defect occurs, issuing a recall does not automatically shield the manufacturer from liability; however, if the manufacturer did in fact contact you directly and inform you about the product defect, it might be difficult for you to recover compensation for injuries sustained after receiving this notification.
Call 800-770-7008 to Speak with a Product Liability Attorney in Minneapolis 
If you were hurt while using a defective product that had been recalled, contact Bradshaw & Bryant to determine the most strategic way to proceed. We will conduct a thorough investigation into the product in question, the recall, and other elements of your case to ensure your claim is as strong as possible when settlement negotiations begin.
There's no charge for the consultation, and we accept cases on a contingency fee basis. Call 800-770-7008 today or use our Online Contact Form to speak with a product liability lawyer in Minneapolis.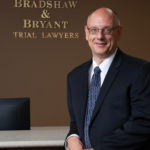 A founding partner with Bradshaw & Bryant, Mike Bryant has always fought to find justice for his clients—knowing that legal troubles, both personal injury and criminal, can be devastating for a family. Voted a Top 40 Personal Injury "Super Lawyer"  multiple years, Mr. Bryant has also been voted one of the Top 100 Minnesota  "Super Lawyers" four times.