I looked at this tragedy and the awful video right after it happened:
Amazing Video of the Indiana Stage Collapse, Mike Bryant | August 14, 2011 10:57 PM
I found it sad when the Governor went on the defensive with:
Gov. Mitch Daniels said precautions were taken before the storm, but no one could have foreseen such a strong gust focused in one place. Some witnesses have said that while a storm was expected, rain hadn't begun to fall when the wind sent the stage rigging falling into the crowd of terrified fans.

"This is the finest event of its kind in America, this is the finest one we've ever had, and this desperately sad, as far as I can tell fluke event doesn't change that," Daniels said.
Well that's been found to not be true. They knew the storm was coming and they took chances with people's lives. As a result, seven people died and over 30 others were injured.
Now comes the second wave of defense, there is a cap on these types of damages in Indiana. So no matter how many people were killed and injured, $5 million is the maximum total liability and $700,000/individual.
The US Today looked at the Indiana cap and did the math :
Consider this: If the families of the seven people killed each received the maximum allowed under the law, those payments would eat up $4.9 million — leaving only $100,000 to split among the more than 40 other people injured. The medical bills of just one victim who spent more than a few days in the hospital would easily eclipse that.
Caps are simply wrong as a theory and almost always an additional punishment when put into practice. They harm those who are most injured and most capable of showing bigger losses. They only achieve the tort reformers real goal of protecting the defendants and those at fault from responsibility and justice.
Minnesota had this same issue come up with the 35W Bridge tragedy and passed special legislation to compensate the families and those who were injured. This is a flawed way to protect people. It's time that we stand up for those who are yet to be injured and make sure that they don't have to hope for special compensation funds, when the abolishment of caps would insure their protection.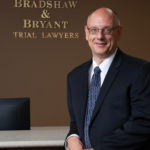 A founding partner with Bradshaw & Bryant, Mike Bryant has always fought to find justice for his clients—knowing that legal troubles, both personal injury and criminal, can be devastating for a family. Voted a Top 40 Personal Injury "Super Lawyer"  multiple years, Mr. Bryant has also been voted one of the Top 100 Minnesota  "Super Lawyers" four times.