During the Vice Presidential Debate, Paul Ryan (Republican Vice-Presidential candidate) brought up a story about how caring Mitt Romney is. His example was a huge car accident that severely damaged a family. Mitt's response, according to Ryan, was to go see the family and agree to pay for the kids' college educations. That is truly a noble and caring thing, and something that very few people are able to offer individuals they barely know. What I find striking about it is that it is being said by a man, Paul Ryan, who has supported tort reform. He uses an example of someone's philanthropy to help those damaged by a car collision, but yet repeatedly has voted to limit the liability of those responsible. Why would you want to cap the fault of those individuals and hope that there is a Mitt Romney around to make things better for their overall losses? If you can agree that the children will lose their college education as a result of the collision, shouldn't that be something that you should look to the at-fault party for?
In comparison, Vice President Joe Biden explained his own history and the tragic example of the loss of his wife and daughter in a car collision. Both before that and ever since, then Senator and later Vice President Joe Biden has always fought for the protection of individuals' rights and against the capping of damages on those responsible.
This is to say nothing of Representative Ryan's supposed ongoing support of the U.S. Constitution at the same time that he absolutely ignores the 7th Amendment and individuals' rights to a full redress in a civil trial.
This is just one of the many examples of how voting in favor of big tax donors, big campaign donors, and big business special interests cloud the judgment and logic of these "representatives."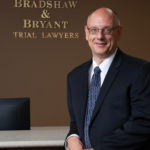 A founding partner with Bradshaw & Bryant, Mike Bryant has always fought to find justice for his clients—knowing that legal troubles, both personal injury and criminal, can be devastating for a family. Voted a Top 40 Personal Injury "Super Lawyer"  multiple years, Mr. Bryant has also been voted one of the Top 100 Minnesota  "Super Lawyers" four times.