If you were recently hurt in a motor-vehicle collision, you may have incurred unanticipated expenses like medical bills and vehicle repairs. And if you've been unable to work, you might have to find another way to make ends meet while you heal.
Although filing a personal injury claim could yield the funds needed to cover medical bills, lost income, and other damages, navigating legal proceedings is probably the last thing you want to do while recovering. And if your injuries aren't very serious, you may be wondering if taking legal action would even be worth the hassle.
If you hurt your back in a car accident, you should consider filing a personal injury claim if the following are true:
1. You Suffered Damages
Sometimes a seemingly minor injury can end up being far more severe than doctors originally anticipated. This is especially true regarding back injuries. Your physician may say that you just need a week or two of rest, but if your symptoms do not subside, it's possible that other treatments such as surgery or physical therapy will be necessary to facilitate recovery.
If you were injured, you should at least do what is necessary to put yourself in a favorable position to bring a claim. That means visiting a doctor right away for a medical evaluation, keeping all records pertaining to your injury and the costs you incur, and setting up a free consultation with an attorney.
2. You Have Evidence to Support Your Claim
The outcome of any personal injury case will hinge on the strength of the available evidence. If you have evidence to prove liability, causation, and damages, then filing a claim might be worth your time. If you carry personal injury protection coverage, which is a requirement for drivers in Minnesota, you would not have to prove liability to bring a claim against your own PIP insurance provider.
3. The Statute of Limitations Has Not Passed
If you were injured several years ago, there's a chance that the statute of limitations that applies to your case has passed. That means if you file a lawsuit, it will almost certainly be dismissed. The statute of limitations for most personal injury lawsuits in Minnesota is six years from the date of injury; however, if a government entity is liable for the damages, you would have to submit a notice of the claim within 180 days of the injury.
Call 800-770-7008 to Speak with a Car Accident Attorney in Minneapolis
At Bradshaw & Bryant, we understand how a serious back injury can affect virtually all aspects of a person's life. We will do everything in our power to help you fight for the compensation you need to cover medical bills, lost income, and other damages. Call us today at 800-770-7008 or use our Online Contact Form to set up a free case evaluation with a car accident lawyer in Minneapolis.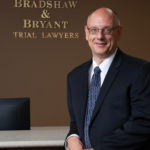 A founding partner with Bradshaw & Bryant, Mike Bryant has always fought to find justice for his clients—knowing that legal troubles, both personal injury and criminal, can be devastating for a family. Voted a Top 40 Personal Injury "Super Lawyer"  multiple years, Mr. Bryant has also been voted one of the Top 100 Minnesota  "Super Lawyers" four times.