While construction deaths declined nationally in 2010, Minnesota saw an increase.
Construction deaths decreased 10 percent between 2009 and 2010 and by nearly 40 percent over the five years, according to a report from the Associated General Contractors of America (AGC). The total number of construction fatalities in 2010 was 751, down from 834 in 2009 and 1,239 in 2006.
But, Minnesota, had nine construction fatalities in 2010, up from seven in 2009, said James Honerman, communications director for the Minnesota Dept. of Labor and Industry.
Across all industries – Minnesota OSHA investigated 21 workplace deaths in 2009, 21 in 2010 and six in the first three months of 2011.
Honerman notes, those numbers include incidents outside the scope of Minnesota OSHA's investigative jurisdiction, such as workers driving a load to a construction site.
"One death is too many which is why this data also serves as a sobering reminder of the work that still needs to be done," said Stephen E. Sandherr, the association's chief executive officer.
"The construction industry has made safety a top priority, and the new data shows those efforts are helping save lives," Sandherr said.
Among the most common causes of construction workplace accidents and deaths are falls and "crushed by" accidents such as trench collapses.
For more information, refer to the National Census of Fatal Occupation Injuries in 2010 which can be found on the U.S. Department of Labor Web site.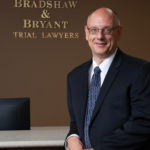 A founding partner with Bradshaw & Bryant, Mike Bryant has always fought to find justice for his clients—knowing that legal troubles, both personal injury and criminal, can be devastating for a family. Voted a Top 40 Personal Injury "Super Lawyer"  multiple years, Mr. Bryant has also been voted one of the Top 100 Minnesota  "Super Lawyers" four times.