This past week,   Rev. Anthony M. Criscitelli was charged Tuesday with failing to supervise a Franciscan brother accused of sexually abusing more than 100 children.   Criscitelli was the Minister Provincial for the Franciscan Friars, Third Order Regulars, Province of the Immaculate Conception, from 2002 to 2010. He was responsible for overseeing "safety plans" for members accused of abusing children, and the assignment and discipline of all friars. Rev. Anthony M. Criscitelli, has been at St. Bridget parish in north Minneapolis.
The Baker case has been reported by the Minneapolis Tribune as very troubling:
Baker killed himself in January 2013 by plunging two knives into his chest after Ohio media reported that he sexually abused several boys at John F. Kennedy High School in Warren, Ohio, in the late 1980s. He had served as a religion teacher, sports trainer and baseball coach. He told the boys they needed massages to avoid injuries, and molested them as he massaged them.

According to the charges filed Tuesday, that's the same technique Baker used to abuse more than 80 children while working at Bishop McCort Catholic High School in Johnstown, Pa., from 1992 to 2000.
Criscitelli's involvement is alleged to include:
ignor[ing] his duty to supervise Baker, the charges said, dropping Baker's "safety plans" in the mail from his location in Minnesota and allowing a subordinate to review the plans with Baker in Hollidaysburg, Pa., where Baker lived at the monastery.

'Criscitelli … failed to enforce those safety plans and let Baker work at a public shopping mall, engage the public at festivals held on monastery grounds, and other similar conduct,' the charges said.
The archdioceses is said to have initiated the process of removing him from ministry.
Abuse of children and the continued silence by the offenders needs to be prevented. If you suffered, saw, or suspected such events, it is important to know that there is help out there.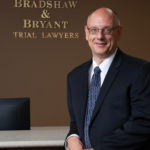 A founding partner with Bradshaw & Bryant, Mike Bryant has always fought to find justice for his clients—knowing that legal troubles, both personal injury and criminal, can be devastating for a family. Voted a Top 40 Personal Injury "Super Lawyer"  multiple years, Mr. Bryant has also been voted one of the Top 100 Minnesota  "Super Lawyers" four times.