"Our most powerful tool is the light of truth. Through our actions, we bring healing, prevention and justice." SNAP
At only 21, Megan Peterson is quite possibly the youngest SNAP member (Survivors Network of those Abused by Priests) to ever speak out about her victimization. She was raped by Fr. Joseph Jeyapaul in 2005.
It was just a month ago that she left the U.S. for the first time feeling both scared and thrilled to join her brothers and sisters as they filed a historic complaint with the International criminal court. Survivors, just like Megan, came from all over the world – Austria, France, Italy, the Netherlands and Spain among other countries – to support one another, share tears and stories. For many it was truly a first time to understand they are not alone.
You see, in most of these countries, less public attention is focused on cover ups and clergy sex crimes than in the U.S.
"Despite the coverage the ICC filing received in countries all over the world, despite many in the press likening the filing to David vs. Goliath, in an issue which " shows no signs of going away" the most critical advances SNAP has made in the past month have been from the sheer numbers of survivors who saw the story headlined in towns and cities and came forward to be heard and to say in a unified, powerful and unyielding voice: "we must have justice!"
SNAP is working hard to build and foster support groups in those nations, as well as others, so the extraordinary work they have achieved in the U.S. can be replicated across the world. SNAP is there for victims like Megan and their families who feel confused, alone and helpless.
The network of survivors works to expose predators and those who shield them. They build policies and practices within secular and religious organizations that protect children now and in the future.
SNAP Needs Your Help
As the case moves forward and other victims seek out SNAP, they need your partnership and support. Any dollar amount is gratefully received and goes directly toward the expansion of SNAP's global reach as they continue to lead an international demand for accountability.
A tax deductible donation can be made by visiting the SNAP Web site. A donation can also be made by calling 312-455-1499. Alternatively a donation can be mailed to SNAP, P.O. Box 6416, Chicago, IL 60680.
For Megan, it's been a long and painful few years. But she promised herself two things (1) she will not quit until the priest who victimized her is away from kids and (2) the church officials who covered up his heinous crime, is exposed and punished. He has fled the U.S. and is fighting extradition while overseeing dozens of Catholic schools in his home country, India. Think about that for a moment… How many children are potentially in danger from him? One is too many.
This is our chance to ensure that stories like Megan's are never repeated.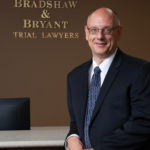 A founding partner with Bradshaw & Bryant, Mike Bryant has always fought to find justice for his clients—knowing that legal troubles, both personal injury and criminal, can be devastating for a family. Voted a Top 40 Personal Injury "Super Lawyer"  multiple years, Mr. Bryant has also been voted one of the Top 100 Minnesota  "Super Lawyers" four times.