I like writing about medical innovation and improvements more than I like writing about the failures and problems. The thing is, I hope that shining a light on the bad parts is what pushes the improvements further. So let's make sure that keeps happening. Here are some items I came across recently:
– Heath News is finding that at least 90 percent of hospital errors resulting in patient injury, infection, and other issues are not recorded.
– Mail online in it's heath section is suggesting that 1 in 3 Americans are injured during stays in the hospital.
– A must read for anyone interested in safety, Fairwarning, takes a look at the percentage of smokers that mistakenly believe that cigarettes are safer than they really are.
– Time magazine is taking a look at the affects alcohol the night before can have on a surgeon. Should the patent be asking about this topic?
Just a few more things to keep in mind in making sure you and your family are always safe.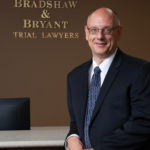 A founding partner with Bradshaw & Bryant, Mike Bryant has always fought to find justice for his clients—knowing that legal troubles, both personal injury and criminal, can be devastating for a family. Voted a Top 40 Personal Injury "Super Lawyer"  multiple years, Mr. Bryant has also been voted one of the Top 100 Minnesota  "Super Lawyers" four times.