?The Academy Of Certified Trial Lawyers judicial endorsements are out:
Chief Justice Minnesota Supreme Court:
Lorie Skjerven Gildea
Minnesota Supreme Court –
Associate Justice Seat 1:
Barry Anderson
Minnesota Supreme Court –
Associate Justice Seat 4:
David R. Stras
First Judicial District – Scott County:
Diane M Hanson
First Judicial District – Dakota County:
Kathryn Messerich
Fourth Judicial District:
Ms. Elizabeth V. Cutter
Who they are:
The Academy is comprised of the leading trial lawyers in the State of Minnesota who have attained the knowledge and experience to become certified trial lawyers. This certification process requires that an applicant for certification accomplish the following:

Pass a day long written examination on the subjects of evidence admissibility, civil procedure, ethics, and other trial related subjects;
Continue with annual continuing education course work focused on trial and substantive law skills;
Prove their talent at written advocacy via submission of authored Court briefs as part of the review process;
Receive favorable recommendations from other trial lawyers and trial Court Judges;
Demonstrate the absence of professional ethics violations; and
Show that they have the requisite number of trials and trial related preparation efforts to be considered for board certification.

Membership in the Academy signifies the member's commitment to excellence, civility, and professionalism. As a member of the Academy, each member proudly exemplifies the commitment to these ideals.
I am proud to be a member. The group is made up of lawyers who practice civil law on both sides and represent a diverse group of clients. It is the lawyers who see judges day in and day out.
They are the type of people you should ask about each of these elections.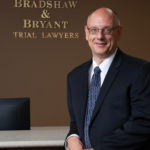 A founding partner with Bradshaw & Bryant, Mike Bryant has always fought to find justice for his clients—knowing that legal troubles, both personal injury and criminal, can be devastating for a family. Voted a Top 40 Personal Injury "Super Lawyer"  multiple years, Mr. Bryant has also been voted one of the Top 100 Minnesota  "Super Lawyers" four times.