Hot Coffee after its time on HBO and its earlier trip to success at Sundance is now available for purchase and should be watched by any consumer who wants to see what is going on with the tort system.
(The movie can also be found on Netflix.)
Of course there have been hit pieces by the usual suspects who act as mouth pieces for big business and insurance companies. But, at best, most of their big complaints are sniveling attempts to cover up the truth.
The movie covers four stories all of which are important to anyone who believes in the 7th Amendment and protecting the rights of the citizen. Personally, I was most moved by the twins and the unconscionable hard caps in Nebraska. This is a real life story that the tort reformers will never address and they don't want people to see.
For pure educational value, the real pictures of Stella's burns should silence a lot of the nonsense that has always been spouted about what happened in that case. Hopefully, that message will get out enough so that the average person can at least have the real information and not tainted press releases and outright lies.
The judicial elections part is a warning of what could happen in any state and how big money interests are buying seats. Finally, the arbitration story and the horrible rape of Ms. Jones explains what a fight it is out there to stop those who will not take responsibility unless they are forced to.
Hot Coffee is a way to get a message out to the common person and provides the information that each consumer should know about. We will be doing our best to get as many of the DVDs out as possible. There also will be efforts around the state to have the movie viewed by large groups.
The Injuryboard has been writing about the movie for awhile. Here are a couple to take a look at:
The McDonald's Hot Coffee Case, Nick DiCello | May 07, 2010 4:04 PM
Hot Coffee : It Needs to be Watched!, Mike Bryant | June 27, 2011 10:47 PM
Hot Coffee: Time for the Truth!, Mike Bryant | June 26, 2011 9:31 AM
McDonalds Hot Coffee in Reverse, Jon Lewis | August 28, 2010 1:41 PM
"Hot Coffee" spills the beans on frivolous lawsuit charges, Doug Landau | August 07, 2009 11:53 AM
Part III – Hot Coffee On HBO and HBO2 This Week, David Mittleman | June 28, 2011 2:22 PM
Did You Know… Hot Coffee Premiers Tonight on HBO?, Brett Emison | June 27, 2011 2:30 PM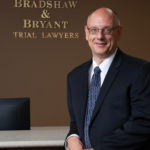 A founding partner with Bradshaw & Bryant, Mike Bryant has always fought to find justice for his clients—knowing that legal troubles, both personal injury and criminal, can be devastating for a family. Voted a Top 40 Personal Injury "Super Lawyer"  multiple years, Mr. Bryant has also been voted one of the Top 100 Minnesota  "Super Lawyers" four times.