Losing a loved one is always devastating. Whether the death followed a heroic battle with a serious illness or was totally unexpected, family members must bear a significant burden after the loss.
Adjusting to life after such a tragic event can be especially difficult when the deceased was a primary source of income. Although no amount of money can undo the trauma of losing a loved one, you may be able to restore your family's financial stability by filing a wrongful death claim. Depending on the facts of your case, you may be entitled to compensation for lost income and benefits, emotional distress, funeral expenses, and other economic and non-economic damages associated with the loss.
The Minneapolis wrongful death attorneys at Bradshaw & Bryant are well-versed in the laws that govern wrongful death claims in Minnesota. We combine the knowledge and resources of a large practice with the personal touch of a small firm.
If you lost a loved one because of someone else's negligence, our accident lawyers will get to work immediately to compile the evidence needed to prove your family's claim. Call us today at 320-259-5414 to schedule a free case evaluation.
What Constitutes "Wrongful Death" in Minnesota? 
In general, a family would have grounds for a wrongful death claim if the deceased would have been able to file a personal injury claim had he or she survived. Just like personal injury claims, plaintiffs in wrongful death cases must prove:
 The liable party owed the deceased a duty of care;
The liable party breached this duty of care; and
The breach of duty contributed to the victim's death.
The state of Minnesota clarifies the above elements by including both wrongful acts and omissions under applicable breaches. That means surviving family members might have grounds for a claim if the liable party either acted in a reckless manner or failed to act in a reasonable manner given the circumstances.
Common examples of wrongful acts and omissions that result in wrongful death include:
A driver who causes a fatal accident due to violating a traffic law;
A defective product that kills a consumer who was using the product as it was intended to be used;
A doctor who fails to diagnose a fatal illness that would have been diagnosed had the doctor used a reasonable standard of care; and
A store manager who was aware of a spilled liquid for a significant length of time yet failed to remedy the problem, resulting in a fatal slip and fall accident.
Discuss Your Case with a Minnesota Wrongful Death Attorney Today!
If you lost an immediate family member in a preventable accident, turn to the compassionate wrongful death attorneys at Bradshaw & Bryant. We are proud to fight relentlessly on behalf of clients in Golden Valley, Waite Park, and throughout Minnesota.
We will answer your questions, conduct a thorough investigation into your case, and help you determine the most strategic way to proceed with your claim. Call 320-259-5414 or fill out our Contact Form to schedule a free consultation with a wrongful death lawyer.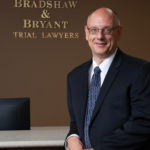 A founding partner with Bradshaw & Bryant, Mike Bryant has always fought to find justice for his clients—knowing that legal troubles, both personal injury and criminal, can be devastating for a family. Voted a Top 40 Personal Injury "Super Lawyer"  multiple years, Mr. Bryant has also been voted one of the Top 100 Minnesota  "Super Lawyers" four times.