Having a pre-existing medical condition can make it harder to recover fair compensation after an accident, but it won't invalidate your legal right to seek damages. While insurers and opposing parties will often leverage the existence of a prior injury, condition, or illness to dispute liability, in Minnesota you are entitled to pursue a financial award for an accident that has aggravated a pre-existing condition.
What Is an Asymptomatic Pre-existing Condition?
Simply put, an asymptomatic pre-existing condition is an illness or injury that does not present with any symptoms. For instance, you may have been diagnosed with a degenerative disc disease but do not experience any pain or discomfort due to the condition. However, it's possible that suffering an injury in an accident could aggravate this previously asymptomatic condition, causing it to manifest new symptoms.
How Can a Pre-existing Condition Affect My Personal Injury Case?
During the proceedings of your personal injury case, opposing parties will likely want to review your medical records. As such, they will be made aware of your pre-existing conditions. Under these circumstances, they may claim that your injuries cannot be attributable to the defendant's negligence.
However, you can also argue that the defendant is responsible for aggravating your condition, especially if it only started exhibiting symptoms after the accident. Ultimately, having a pre-existing condition or injury does not mean you are disqualified from receiving compensation.
You will, however, need to demonstrate how the injury you suffered has aggravated your condition. While every case is unique, here are few different types of evidence that could help you demonstrate aggravation:
• Past and Present Medical records: The treatment you required before and after the accident can help illustrate how your injuries have affected your condition. For instance, if you didn't need to visit the doctor for years but then suddenly had to undergo extensive care after a car wreck, this can help indicate that you're suffering a considerable degree of pain and suffering.
• Employment Records: Your employment records can help show that there has been a sudden change in your condition. If, for example, you rarely missed days at work and were able to perform your job function without issues, but were unable to return to the same field of work after the accident, this could be used as evidence to show aggravation of a pre-existing condition.
• Injury Witnesses: Friends, loved ones, and colleagues can provide insight into how your life has changed since the accident. Additionally, if you had to hire anyone to assist with tasks you can no longer do by yourself since the accident, those individuals could also help prove a change in your condition.
Discuss Your Claim with a Minneapolis Personal Injury Attorney
If you have a pre-existing condition that was aggravated in an accident, it may be in your best interests to speak to a personal injury attorney as there's a high likelihood that you will face disputes from the insurer and other opposing parties. At Bradshaw & Bryant, we can help investigate the accident and review the available evidence, developing strategies to overcome any challenges that might arise during proceedings. To schedule a free consultation, reach out to us at 800-770-7008 or send us a message via our contact page HERE.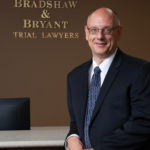 A founding partner with Bradshaw & Bryant, Mike Bryant has always fought to find justice for his clients—knowing that legal troubles, both personal injury and criminal, can be devastating for a family. Voted a Top 40 Personal Injury "Super Lawyer"  multiple years, Mr. Bryant has also been voted one of the Top 100 Minnesota  "Super Lawyers" four times.