If you suffered spinal cord damage because someone failed to exercise reasonable care, you're probably wondering what kinds of losses you can seek by taking legal action. While sustaining a spinal cord injury (SCI) doesn't automatically entitle you to a seven-figure sum, the damages you incur will probably add up quickly and may very well amount to a small fortune.
Although there are no guarantees when it comes to tort cases, accident victims with legitimate grounds for legal action can account for the following when estimating a starting point for the negotiations:
1. Medical Bills
During the first year alone, recovering from an SCI can cost more than $1 million in medical bills and living expenses. In every year thereafter, patients with the most severe damage can expect to spend six figures on these essentials. Thankfully, all the costs associated with rehabilitating your injury—and then navigating life with any disabilities that result—are recoverable.
2. Lost Wages
If you're unable to work in the wake of the accident, make sure to record every missed paycheck. You can include all of them in the settlement negotiations since lost wages are considered a recoverable damage.
Once you reach maximum medical improvement, your physician will conduct a comprehensive assessment and let you know whether you may return to the workforce. If it turns out you sustained permanent disabilities that prevent you from earning a living wage ever again, you can seek compensation for loss of future earnings in addition to the wages you lost up to that point.
3. The Cost of Reasonably Necessary Replacement Services
If your SCI results in paralysis, you may need help with tasks like meal preparation and housekeeping. As long as you can prove any such services are reasonably necessary, you should be able to seek compensation for their associated costs. Child care and transportation could also be considered essential, so save the bills for any corresponding services, and give them to your legal team when they're ready to tally the damages.
4. Loss of Enjoyment in Life
The non-economic damages that come with spinal cord injuries may be intangible, but they're every bit as devastating as their economic counterparts. Fortunately, the state of Minnesota recognizes as much, and tort law allows claimants to seek compensation for pain and suffering, mental anguish, and loss of enjoyment in life.
That state also recognizes the fact that the spouses of injured parties suffer losses. As such, they're entitled to file their own claims, for loss of consortium. This encompasses the loss of companionship, society, and affection they incur because of their husband or wife's condition.
Call 800-770-7008 to Discuss Your Case with a Minneapolis Spinal Cord Injury Attorney
If your life was forever changed because another party was negligent, turn to Bradshaw & Bryant for help achieving justice. Our strategic team has an unwavering commitment to protecting the physical, emotional, and economic well-being of our clients. Call 800-770-7008 or complete our Contact Form to set up a free initial consultation with a spinal cord injury lawyer in Minneapolis.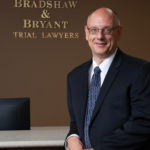 A founding partner with Bradshaw & Bryant, Mike Bryant has always fought to find justice for his clients—knowing that legal troubles, both personal injury and criminal, can be devastating for a family. Voted a Top 40 Personal Injury "Super Lawyer"  multiple years, Mr. Bryant has also been voted one of the Top 100 Minnesota  "Super Lawyers" four times.