This year has been a active one. We thank everyone, who took the time to read any of our posts. It was especially gratifying to have so many people weight in with comments. Here s a list of our most viewed posts in 2011.
The Sentencing of Amy Sensor (Update), Mike Bryant | July 08, 2012 10:45 AM
Rev. Curtis Wehmeyer Removed From Blessed Sacrament Parish in St. Paul, Mike Bryant | June 26, 2012 5:30 AM
How much does the ignition interlock device cost, and what are my options if I can't afford it?, Nicole Bettendorf | June 27, 2011 12:37 PM
Shattuck-St. Mary's Ex-teacher Charged with Sexual Abuse, Mike Bryant | October 14, 2012 3:15 PM
Whitney Houston: Blame the Bartender?, Joe Crumley | February 16, 2012 11:07 AM
Personal Injury Claim Calculator: What is My Case Worth?, Mike Bryant | September 17, 2011 12:42 PM
Why Can't My Criminal Charges be Dropped when the Victim wants Them Dropped?, Nicole Bettendorf | June 19, 2011 12:55 PM
Kosnoff Fasy PLLC Releases the Names of 1,900 Alleged Boy Scout Child Sex-Abusers, Mike Bryant | October 16, 2012 12:01 PM
Car Crashes with Cows, Horses, and other Animals, Joe Crumley | January 19, 2011 2:46 PM
Peg Perego Recalls Strollers, Mike Bryant | July 29, 2012 12:53 PM
————————————————————————–
Here is the top ten from our St Cloud blog.
Here is Brett Emison list from the Missouri blog.
We hope to build off this year and post even more in 2013.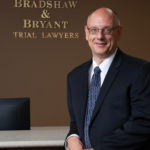 A founding partner with Bradshaw & Bryant, Mike Bryant has always fought to find justice for his clients—knowing that legal troubles, both personal injury and criminal, can be devastating for a family. Voted a Top 40 Personal Injury "Super Lawyer"  multiple years, Mr. Bryant has also been voted one of the Top 100 Minnesota  "Super Lawyers" four times.