As the leaves change and the temperature drops, people across Minnesota start preparing their snowmobiles for the upcoming season. With more than 22,000 miles of groomed trails, the Gopher State boasts some of the best snowmobiling in the country.
It's important to remember, however, that winter sports—especially those involving motor vehicles—are inherently dangerous. Even when both your snowmobile and the trails are exceptionally maintained, you run the risk of getting into an accident every time you head out.
Fortunately, those who get hurt through no fault of their own are usually entitled to compensation. Before you can seek damages, though, you're going to have to determine who was to blame.
Let's take a look at the various parties that are most often liable for snowmobile accidents:
1. Another Operator
When two or more snowmobiles collide, at least one of the operators is usually found responsible. If you were traveling at a reasonable speed and following all right-of-way laws just before the accident, there's a good chance the other driver was at fault.
2. The Property Owner
When property owners invite snowmobilers on their premises, they have an obligation to maintain the trails so they're free of major hazards. Assuming you weren't trespassing at the time of the accident, you may be able to file a third-party claim with the owner's insurer following an accident caused by unsafe conditions.
For example, if you crashed into an inconspicuous fence or your vehicle's runners got caught on a tree stump, you might have grounds for a claim against the property owner.
3. A Manufacturer
While most snowmobile accidents are attributed to driver error, a small percentage are the result of mechanical malfunctions. When one of the vehicle's critical components fails, the company that manufactured the parts in question is often liable.
Generally speaking, manufacturers—and sometimes other parties in the chain of production, including marketers, distributors, and retainers—are strictly liable for any damages their products cause. That means injured parties don't have to prove negligence to be eligible for a payout. You're still going to have to prove causation and losses, though, so your claim will demand a considerable amount of evidence regardless.
How Long Do I Have to Take Action Following a Snowmobile Accident?
If the accident in which you were hurt occurred in Minnesota, that's likely where you're going to have to file your claim. Even if you're not a resident and you were just vacationing at the time, the state's tort laws are going to apply.
When it comes to the statute of limitations, that means you may have up to six years to file a formal lawsuit. There are various exceptions, however, that could shorten this deadline considerably. For example, if it turns out a defective part was ultimately to blame, you may have just four years to go to court.
Call 800-770-7008 to Speak with a Snowmobile Accident Attorney in Minneapolis
If you sustained serious injuries in a snowmobile accident and you want to hold the liable party accountable, turn to Bradshaw & Bryant. When you enlist our help, you get the tenacity, resources, and experience of a powerhouse practice backing your every movie. Call 800-770-7008 or complete our Contact Form to set up a free consultation with a snowmobile accident lawyer in Minneapolis.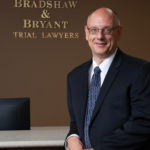 A founding partner with Bradshaw & Bryant, Mike Bryant has always fought to find justice for his clients—knowing that legal troubles, both personal injury and criminal, can be devastating for a family. Voted a Top 40 Personal Injury "Super Lawyer"  multiple years, Mr. Bryant has also been voted one of the Top 100 Minnesota  "Super Lawyers" four times.