Every time you get behind the wheel, you can expect at least a dozen distractions to compete for your attention. Although anything that takes your focus off the road can increase the likelihood of a collision, some distractions are inherently more dangerous than others.
Using a cellphone while driving is one of the deadliest distractions because it inhibits you visually, manually, and cognitively. To deter motorists from using their phone, a new law will go into effect in Minnesota on August 1, 2019 that will make it illegal for drivers to use a hand-held device under most circumstances.
Let's take a closer look at why using a cellphone behind the wheel is so dangerous:
Cellphone Use Takes Your Hand off the Wheel 
Drivers have to take at least one hand off the wheel to type or scroll. This in turn can affect lane positioning and even make you swerve into oncoming traffic. It can also make it virtually impossible to complete an evasive maneuver in time to avoid a collision should a hazard arise. Aside from using a phone, common examples of manual distractions include eating, drinking, applying make-up, and adjusting the navigation system. 
Cellphone Use Deters Your Focus from the Road                                   
Reading or typing a text can take your eyes off the road for about 5 seconds. If you do so while traveling 55 mph, that means you'll travel the length of a whole football field without actually looking at the road just ahead of you. Other common visual distractions include checking on passengers in the back seat and reviewing your route on the navigation system. 
Cellphone Use Is a Cognitive Distraction 
Although Minnesota drivers will still be able to use their phones after August 1 if they enable hands-free mode, they should beware of the dangers of doing so. If you're using your vehicle's speakerphone system to talk to a friend, for example, at least some of your attention will be diverted to the call. And as long as you're not focusing solely on the traffic around you, you're at risk of causing a collision. Other cognitive distractions include talking to one of your passengers, daydreaming, and listening to a podcast or audiobook. 
Call 800-770-7008 for a Free Consultation with a Minneapolis Car Accident Lawyer 
If you were hurt in a wreck with a distracted driver, contact Bradshaw & Bryant. Proving that another motorist was texting or talking on the phone presents certain challenges since many people don't voluntarily admit to their wrongdoing while at the scene. Our attorneys can perform a thorough investigation and try to access cellphone records, surveillance footage, dash cam recordings, and other evidence to prove liability.
During your free initial consultation, we will answer your questions and help you determine the most strategic way to proceed with your claim. Call 800-770-7008 today or use our Online Contact Form to set up a case evaluation with a car accident attorney in Minneapolis.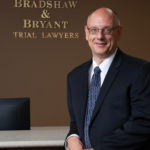 A founding partner with Bradshaw & Bryant, Mike Bryant has always fought to find justice for his clients—knowing that legal troubles, both personal injury and criminal, can be devastating for a family. Voted a Top 40 Personal Injury "Super Lawyer"  multiple years, Mr. Bryant has also been voted one of the Top 100 Minnesota  "Super Lawyers" four times.