Defective products injure millions of Americans every year. While virtually any consumer good can malfunction, some products cause far more accidents than others. The worst culprits include toys, furniture and décor, tools, appliances, motor vehicles, and food.
If you were seriously hurt due to a product defect, you may have grounds for a personal injury claim. Before you start building your case, though, it is wise to consult an attorney. Here are a few reasons why:
1. These Cases Usually Require In-Depth Investigations
It is likely that your attorney will have to perform a thorough investigation to identify the liable party and gather the evidence needed to support your claim. It may be necessary to consult with product specialists and other experts to establish liability. While you may not have the resources to conduct such an investigation on your own, you can be sure that a well-credentialed product liability lawyer will.
Your attorney can:
• Try to obtain the original blueprints and schematics for the product in question;
• Assess the manufacturer's efforts to notify the public;
• Investigate the source of the materials used in production and inspect their quality;
• Consult with relevant experts;
• Interview eyewitnesses; and
• Get statements from other consumers who were hurt by the same product.
2. You May Be Coerced into Providing a Statement That Harms Your Case
Insurance adjusters employ all kinds of strategies to deny or reduce the value of claims. For example, you might be asked to provide a recorded statement shortly after the incident. This statement may be used to dispute liability, causation, the severity of your injuries, and the value of your damages.
Insurance adjusters may also lead victims to believe the policyholder's total available coverage is much lower than it actually is. It's also not unheard of for the initial settlement offer to exclude certain damages. An attorney can help you account for all the damages you may be owed and take steps to find out how much insurance coverage is available.
3. Recovering from Serious Injuries Can Be Demanding
Depending on the severity of your injuries, you may not be able to focus on anything other than your recovery. Between resting, rehabbing your injuries, and attending doctor's appointments, you have enough on your plate without having to navigate complicated legal proceedings on your own.
By hiring a product liability attorney, you will be able to focus on your health while your case proceeds in good hands. Your legal team will gather the evidence needed to strengthen your case and can handle settlement negotiations on your behalf.
Discuss Your Case with a Product Liability Lawyer in Minneapolis
If you want to pursue compensation for a personal injury or wrongful death caused by a defective product, contact Bradshaw & Bryant. Our lawyers have the resources to take on even the largest corporations and their insurance companies. Call 800-770-7008 or use our Online Contact Form to set up a free case review with a product liability attorney in Minneapolis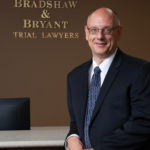 A founding partner with Bradshaw & Bryant, Mike Bryant has always fought to find justice for his clients—knowing that legal troubles, both personal injury and criminal, can be devastating for a family. Voted a Top 40 Personal Injury "Super Lawyer"  multiple years, Mr. Bryant has also been voted one of the Top 100 Minnesota  "Super Lawyers" four times.