Injection Without the Needle? Iontophoresis is a technique that uses an electrical charge to deliver a medicine or chemical through the skin. It is basically an injection without the needle. The medication is placed into a chamber or patch and delivered through the skin with the assistance of an electrical charge. This reduces the possibility of infection through a needle and of course helps with patients who have aversion to needles. It is essentially exactly the opposite of the reverse iontophoresis used in no-needle blood glucose testing used by diabetics, such as the "Gluco Watch."
Apparently Aetna Health Insurance has decided that the iontopheresis procedure is experimental when used to treat musculoskeletal problems, and presumably are denying payments.
This seems rather short-sighted, considering the non-intrusive nature of the treatment as well as the ability of physical therapists to administer ongoing treatments after it has been prescribed, presumably at a lower cost than having an M.D. or a nurse practitioner do expensive and intrusive injections.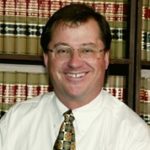 As a partner with Bradshaw & Bryant, Joe Crumley has over 20 years experience with the firm—helping injured people and their families to secure just and fair compensation. Excelling in personal injury litigation, Mr. Crumley has secured numerous record-setting verdicts and settlements and won accolades such as MTLA's "Trial Lawyer of the Year" and "Excellence" Awards.