While the initial reports seemed to center primarily on Medical Advanced Pain Specialists (MAPS), it is now being reported that 129 clinics in Minnesota bought drugs from New England Compounding Center (NECC). This is troubling information because it suggests that we are a very long way from containing this issue. It also means that there may be a lot more potential consumers who were injured than previously understood.
The federal investigators in Massachusetts need to be getting the information on every sale that was done as part of this spreading epidemic. By tracking down the sale of every vial and whether it was used or not is the only way that every person potentially infected can be contacted.
The Minneapolis Tribune is reporting:
On Monday, the U.S. Food and Drug Administration warned that several of the company's drugs may have been contaminated, not just the batches of injectable steroids implicated in the meningitis outbreak.
The article names Associated Eye Care in Stillwater, Fairview Health Services, Essential Health in Duluth, St. Luke's Hospital in Duluth, and Allina Health as additional clinics that received drugs from NECC.
Joe Crumley, my partner, recently discussed letters that are going out in St Cloud:
Meningitis Scare Hits St. Cloud Patients, Joe Crumley | October 18, 2012 7:28 PM
Thousands of people nationwide have been exposed to the tainted steroids, with 231 cases of meningitis, two joint infections, and 23 deaths. Nearly 1,000 Minnesotans received spinal injections with the steroid linked to the infections, as I wrote previously.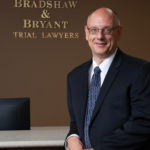 A founding partner with Bradshaw & Bryant, Mike Bryant has always fought to find justice for his clients—knowing that legal troubles, both personal injury and criminal, can be devastating for a family. Voted a Top 40 Personal Injury "Super Lawyer"  multiple years, Mr. Bryant has also been voted one of the Top 100 Minnesota  "Super Lawyers" four times.