How many pain killer recall have there been? How many advertised drugs are now being found to actually harm us? The CDC's National Center for Health Statistics (NCHS) has found that more Americans are looking other places than pain killers.
Highlights of the study include:
In 2007, 38 million adults made an estimated 354 million visits to CAM practitioners, at an estimated cost of almost $12 billion dollars.
Two-thirds of the out-of-pocket spending was for treatments that did not involve a practitioner, such as over-the-counter herbal therapies and other therapies, classes and materials. About $12 billion was spent on visits to practitioners such as chiropractors, acupuncturists, and homeopathic specialists.
The biggest single expenditure was for non-vitamin, non-mineral herbal supplements and other products (almost $15 billion) followed by practitioner visits ($12 billion), stretching and meditation-related classes such as yoga, tai chi, and qigong ($4 billion), homeopathic medicines ($2.9 billion) and relaxation techniques ($0.2 billion).
Far more people are harmed by regular use of aspirin and ibuprofen (Nsaids). 100,000 Americans are hospitalized each year with complications associated with Nsaids and 15,000 to 20,000 die from ulcers and internal bleeding linked to their use.
Which has now seen the addition of the dangers from generic drugs:
Generics Could Save You Money – But, At What Cost?, Steven Davis | July 27, 2011 2:03 PM
Generic Drugs Just Got More Dangerous, Mike Bryant | July 15, 2011 9:09 AM
Are Generic Medications as Safe as Brand Name Medications?, Amber Racine | July 14, 2011 10:30 AM
WebMD also noted some interesting findings about a type of injuries that we deal with a lot in the office:
Chronic pain, especially back pain, is by far the biggest reason that people turn to alternative treatments, Briggs said.

She cited previously released data from the 2007 survey showing that of the top 20 conditions for which CAM treatments are used, nine involve chronic pain.

"Americans turn to treatments like acupuncture, chiropractic care, and massage therapy to deal with these painful conditions," she said, adding that groups like the American College of Physicians and the American Pain Society are on record as endorsing these therapies as useful options for the treatment of chronic back pain.

Briggs said assessing the safety and effectiveness of these and other alternative therapies used to treat chronic pain is a major focus of NCCAM's research efforts.

"I think everyone would agree that we don't know as much as we should, and need to know more, about how to manage back pain," she said.
The discussion really should be about why are we calling for more alternative medicines? Why are painkillers given out like candy? Now, we represent enough people with serious pain, so I know that many of the concerns that the loss of these drugs may cause. But, despite that it seems like anything that is done to limit their use is for the better.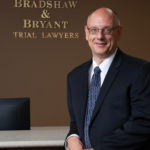 A founding partner with Bradshaw & Bryant, Mike Bryant has always fought to find justice for his clients—knowing that legal troubles, both personal injury and criminal, can be devastating for a family. Voted a Top 40 Personal Injury "Super Lawyer"  multiple years, Mr. Bryant has also been voted one of the Top 100 Minnesota  "Super Lawyers" four times.