New rules that were proposed by the Food and Drug Administration are good signs that the consumer is still being thought of. I looked at the issue originally with :
Will Obama Give Us One Food Administration?, Mike Bryant | January 19, 2009 7:38 PM
After two terms of the FDA looking the other way and ignoring many safety issues , my hope was that the Obama Administration would signal a big change in food safety.
Nestle's Didn't Disclose Information To The FDA, Mike Bryant | July 16, 2009 9:42 AM
FDA Admits Turning Blind Eye To Doctor Pharmaceutical Relationship, Mike Bryant | January 17, 2009 9:16 AM
Congressional Report Shows That FDA Senior Officials Opposed Bush Administration Preemption Actions, Mike Bryant | November 03, 2008 8:04 PM
Bush Administration Order Federal Agencies To Make Laws Less Protective Of Consumers, Mike Bryant | October 28, 2008 9:42 AM
There is a simple benefit in seeing that the active use of the governmental agencies to deny protections has stopped, but the hope was that we would see positive moves.
The New York Times reported that there are two new rule changes that signal more being done:
Changes include requirements for better record keeping, contingency plans for handling outbreaks and measures that would prevent the spread of contaminants in the first place. While food producers would have latitude in determining how to execute the rules, farmers would have to ensure that water used in irrigation met certain standards and food processors would need to find ways to keep fresh food that may contain bacteria from coming into contact with food that has been cooked.

New safety measures might include requiring that farm workers wash their hands, installing portable toilets in fields and ensuring that foods are cooked at temperatures high enough to kill bacteria.
There are still many questions concerning funding these changes. Congress will need to come up with more money and it is expected that they will involve some increase in prices.
The need for change is clear with the numbers who are effected by contaminated food:
One in six Americans becomes ill from eating contaminated food each year, the government estimates; most of them recover without concern, but roughly 130,000 are hospitalized and 3,000 die. The agency estimated the new rules could prevent about 1.75 million illnesses each year.
There is still much more to be done and it has taken this long to see these changes, but it is yet another example of how important an Administration is for a consumer.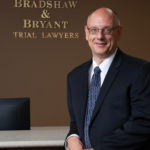 A founding partner with Bradshaw & Bryant, Mike Bryant has always fought to find justice for his clients—knowing that legal troubles, both personal injury and criminal, can be devastating for a family. Voted a Top 40 Personal Injury "Super Lawyer"  multiple years, Mr. Bryant has also been voted one of the Top 100 Minnesota  "Super Lawyers" four times.