If you were struck by a drunk, distracted, or otherwise reckless driver, you may be entitled to compensation for your resulting medical bills, lost wages, and other damages. Before you can recover a payout, however, you must put together a strong claim.
Here are the answers to a few frequently asked questions about doing just that so you can pursue the maximum payout possible:
1. Can I Use Social Media While My Claim Is Pending?
Car accident attorneys generally advise clients to disable their social media accounts until their case has been resolved. It's not uncommon for the insurance adjuster to monitor the claimant's online activity in pursuit of evidence that allows the carrier to challenge the victim's credibility.
If disabling your accounts temporarily is not an option, you can at least reduce the risk of jeopardizing your case by:
• Updating your privacy settings so only approved connections can view your posts;
• Filtering new requests and denying those from people whom you don't recognize;
• Not posting about the accident, your injuries, your social life, or your expenditures;
• Not "checking in" at public places; and
• Asking friends and loved ones to avoid tagging you in their own posts.
2. How Should I Mitigate Damages?
If you fail to mitigate damages, you could be deemed partially liable for their severity. This, in turn, could reduce the total compensation to which you're entitled under Minnesota's modified comparative fault law.
Generally speaking, car accident victims can mitigate damages by seeking prompt medical care, following their doctor's orders, and only arranging for replacement services that are reasonably necessary.
3. What Kinds of Losses Should I Be Tracking?
Minnesota allows for the recovery of both economic and non-economic damages. You won't be able to secure a single cent, however, if you cannot demonstrate the extent of the losses you incur.
To track your economic damages, which include medical expenses, lost wages, and property repairs, send all relevant bills, invoices, receipts, and paystubs to your legal team. As for tracking your non-economic damages, like mental anguish and loss of enjoyment of life, you can keep a personal injury journal.
Detailed entries about the ways in which your injuries are affecting your everyday life will help contextualize your medical records, thereby illustrating your non-monetary losses. While intangible, such losses are every bit as real as the economic damages you incurred.
Call 800-770-7008 for a Free Consultation with a Minneapolis Car Accident Lawyer
At Bradshaw & Bryant, we understand the physical, emotional, and financial toll that unanticipated injuries can take on the whole family. If you were seriously hurt in a car accident through no fault of your own, we'll help you pursue the compensation needed to make your life whole again.
For six consecutive years, attorney Michael Bryant has been recognized as a SuperLawyer and has been named among Minnesota's Top 40 Personal Injury Lawyers by Minnesota Law & Politics. Call 800-770-7008 or use our Online Contact Form to set up a free case evaluation with a car accident attorney in Minneapolis.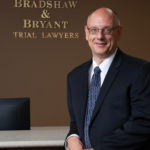 A founding partner with Bradshaw & Bryant, Mike Bryant has always fought to find justice for his clients—knowing that legal troubles, both personal injury and criminal, can be devastating for a family. Voted a Top 40 Personal Injury "Super Lawyer"  multiple years, Mr. Bryant has also been voted one of the Top 100 Minnesota  "Super Lawyers" four times.