If motorists across the country were diligent about eliminating distractions before getting behind the wheel, they could prevent thousands of traffic fatalities annually. They could also prevent hundreds of thousands of injuries.
Fortunately, if you were struck by a distracted driver, you may be able to hold him or her financially accountable for the resulting damages. In order to recover a payout, though, you'll have to build a strong car accident claim that includes sufficient evidence of both liability and damages.
Let's take a look at the answers to some of the most frequently asked questions about putting together such a claim:
1. How Can I Prove That Distracted Driving Was the Underlying Cause of the Accident in Which I Was Hurt?
When building your claim, the strongest evidence of liability will depend on the circumstances surrounding the accident. As long as you turn to a resourceful law firm, though, you can be sure your legal team will dig up any and all proof of negligence, which may include:
• The official police report;
• Eyewitness deposition;
• The distracted driver's confession, if one was obtained;
• Footage from surveillance systems near the scene;
• Recordings from dash cams that captured the accident;
• Social media posts published by the distracted driver in the moments leading up to the wreck; and
• Cell phone records.
2. What Kinds of Losses Should I Be Tracking in the Wake of the Wreck?
In Minnesota, car accident victims may seek compensation for both the monetary and non-monetary losses that they incur. Recoverable economic damages include:
• Medical expenses;
• Home care;
• Lost wages;
• Lost benefits;
• Loss of future earnings;
• Property repairs;
• Alternative transportation;
• Home and vehicle modifications;
• Replacement services;
• Domestic help;
• Child care; and
• Pet care.
You can track these losses by saving all their corresponding bills, invoices, and receipts and giving them to your legal team to total.
When it comes to non-economic damages, on the other hand, recoverable losses include mental anguish, loss of enjoyment in life, and pain and suffering. You can prove the extent of these kinds of damages using personal injury journal entries; statements from friends, loved ones, and colleagues; and testimony from medical experts and mental health professionals.
3. Should I Hire an Attorney for Help with My Claim?
Although you may go up against the distracted driver's insurer alone, doing so is unadvisable. Personal injury proceedings are inherently complicated, and there's undoubtedly a lot at stake.
A seasoned lawyer will conduct a thorough investigation into the accident, handle all correspondence with the opposing party, and advocate for you at every stage of the proceedings. Your attorney will also help you avoid critical mistakes from day one so you don't jeopardize your case inadvertently.
Discuss Your Claim with a Car Accident Attorney in Minneapolis
If you sustained serious injuries in a distracted driving accident, turn to Bradshaw & Bryant for strategic legal counsel. Our clients appreciate the knowledge and commitment we bring to their cases, as well as our willingness to work closely with them, keeping them fully informed every step of the way. Call 800-770-7008 or fill out our Contact Form to schedule a free consultation with a car accident lawyer in Minneapolis.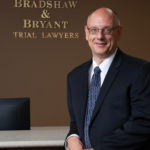 A founding partner with Bradshaw & Bryant, Mike Bryant has always fought to find justice for his clients—knowing that legal troubles, both personal injury and criminal, can be devastating for a family. Voted a Top 40 Personal Injury "Super Lawyer"  multiple years, Mr. Bryant has also been voted one of the Top 100 Minnesota  "Super Lawyers" four times.