The hands-free bill that Governor Tim Walz signed earlier this year will become law on August 1, 2019. Legislators are hopeful that the new law will make the roads safer by deterring motorists from using handheld mobile devices while behind the wheel.
Violators of the hands-free law will face court fees and tickets—$50 for the first offense and $275 for subsequent offenses. They may also have to pay higher car insurance premiums. To avoid these penalties, it's wise for all Minnesota drivers to review the new law before it actually goes into effect. To help you get started, we've answered some of the most frequently asked questions on the subject:
1. What Exactly Does "Hands-Free" Mean?
The hands-free law prohibits motorists from using a handheld mobile device behind the wheel under most circumstances. To avoid a citation, drivers must either avoid using their cellphone altogether or adopt an approved in-car workaround. Examples include wearing a single earphone with a microphone or connecting the phone to the vehicle's audio system. Motorists who operate their phone will also have to secure it on some kind of stand.
As long as the device is in voice-activated or single-touch mode, you may use it to:
• Make and receive calls;
• Listen to music or podcasts;
• Dictate and listen to text messages; and
• Adjust the navigation system.
It's important to remember that performing any of these tasks still poses a cognitive distraction. As such, you should limit your cellphone use while driving, even when it's in voice-activated mode.
2. Why Was the Hands-Free Law Implemented?
Distracted driving is a serious problem in Minnesota, and mobile devices are one of the most common and dangerous distractions. Between 2013 and 2017, distracted driving played a role in at least 20 percent of collisions across Minnesota.
3. How Can I Prepare for the New Hands-Free Cellphone Law?
The simplest way to prepare for the new hands-free law is to stop using your cellphone while driving. Get into the habit of putting it away before buckling up, and don't take it out again until you've reached your destination.
If you intend to continue using your phone while driving, consider investing in a pair of earphones that has a microphone. Be sure only to wear one at a time, though, because using earphones in both ears while driving is prohibited. If you rely on your phone for music or navigation, you may be able to connect it to your vehicle's audio system using a Bluetooth adapter or auxiliary cable.
Need Legal Advice After a Crash? Call 800-770-7008 to Speak with a Minneapolis Car Accident Lawyer
Although the new hands-free law will stop some motorists from texting and driving, it won't stop everyone. If you end up in a crash with a distracted driver, contact the personal injury lawyers at Bradshaw & Bryant. Call 800-770-7008 or use our Online Contact Form to set up a free case evaluation with a car accident attorney in Minneapolis.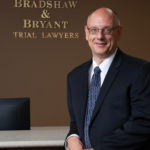 A founding partner with Bradshaw & Bryant, Mike Bryant has always fought to find justice for his clients—knowing that legal troubles, both personal injury and criminal, can be devastating for a family. Voted a Top 40 Personal Injury "Super Lawyer"  multiple years, Mr. Bryant has also been voted one of the Top 100 Minnesota  "Super Lawyers" four times.