Did you know that students who ride the bus are 70 times more likely to get to school safely than those who travel there by car? In other words, parents who are unable to drive their children to school can enjoy peace of mind knowing the bus is the safest mode of road travel—as long as the driver remains alert, attentive, and sober.
When bus drivers are fatigued, distracted, or under the influence of drugs or alcohol, they put all the students onboard—and all the people in traffic around them—at risk of serious injury and death. While the thought of a school bus driver being intoxicated might seem unrealistic, it is far more common than you might realize. Since 2015, more than 1,620 students across 38 states have been put in harm's way by allegedly impaired bus drivers.
If your child was hurt in a school bus accident caused by a negligent driver, here's what you should know about taking legal action:
1. What Kinds of Evidence Will I Need to Prove Liability for a School Bus Accident?
Naturally, the circumstances of the wreck will determine what kinds of evidence you will have to gather when building your case. If the bus driver was impaired, for example, evidence that will contribute to the strength of your claim might include:
• The police report;
• Eyewitness testimony;
• Toxicology results;
• Dash cam footage and/or surveillance recordings of the scene;
• Photographs of the wreckage;
• Black box data; and
• The transportation company's hiring practices and drug testing procedures.
2. What Kinds of Damages Might My Family Be Able to Pursue?
If your children were injured in a bus accident, you may be entitled to compensation for the resulting medical bills and other damages. Should you have to take an extended leave of absence to care for them, you may also include lost wages in the settlement calculations.
You can also pursue compensation for objectively calculable losses that you incur as a direct result of the accident. If your child sustained a permanent disability, for example, you can seek funds for any home and vehicle modifications you will have to make to accommodate his or her disability.
The state of Minnesota allows personal injury claimants to pursue non-economic damages, as well. Examples include mental anguish, pain and suffering, and loss of enjoyment in life. In cases that involve drunk driving, which demonstrates a deliberate disregard for the safety of others, punitive damages may be warranted on top of the standard compensatory damages.
3. How Long Do I Have to File a Lawsuit Against the Liable Party?
If you intend to sue a private transportation company, you will likely have six years to take legal action. If the bus driver was employed by a government agency, though, you will have to submit notice of your claim within just 180 days. And if the accident proved fatal, your family will have three years to file a wrongful death lawsuit.
Speak with a Minneapolis Bus Accident Attorney Today
If your children sustained serious injuries in a school bus accident, your family may be entitled to compensation for the resulting damages. To discuss your case with a personal injury attorney, contact Bradshaw & Bryant. Call 800-770-7008 or use our Online Contact Form to set up a free consultation with a bus accident lawyer in Minneapolis.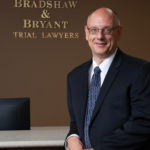 A founding partner with Bradshaw & Bryant, Mike Bryant has always fought to find justice for his clients—knowing that legal troubles, both personal injury and criminal, can be devastating for a family. Voted a Top 40 Personal Injury "Super Lawyer"  multiple years, Mr. Bryant has also been voted one of the Top 100 Minnesota  "Super Lawyers" four times.