If you ride a motorcycle often, chances are you're an inherently adventurous person. Even those who purchase a bike for practical purposes like better fuel efficiency and lower maintenance costs are at least somewhat comfortable with taking risks. After all, even with the proper safety gear, riders are highly vulnerable to injuries in the event of a collision.
Unfortunately, when an adventurous person suffers a debilitating injury, it's not just the physical pain they have to overcome. Every day can be a struggle when a typically active individual is forced to live a sedentary lifestyle to facilitate their recovery. This can lead to depression, the effects of which can ripple through the entire family.
Thankfully, there are ways to help your loved one cope with the emotional impact of getting hurt. We've outlined a few of the top suggestions below:
1. Provide an Escape
If your loved one is placed on bedrest for some portion of his or her recovery, try to supply engaging ways to pass the time. Movies, books, and magazines can provide an escape when you're not around, and when you are, you can play games or partake in some kind of hobby that can be done while seated, like knitting or painting. At the end of the day, anything you do to draw the person's attention away from physical limitations and toward more appealing stimuli can contribute to his or her emotional wellbeing.
2. Take Care of the Household
Your loved one may need help with domestic duties like cooking and cleaning. If you can't perform such tasks yourself, arrange for someone to go over a few times each week to assist with meal preparation and housekeeping.
Researchers have actually identified a link between clutter and high cortisol levels in women. There is also a clear connection between hoarding and depression. As such, it stands to reason that keeping the victim's home relatively tidy could make it easier for him or her to combat the stress and sadness that tend to accompany serious injuries.
3. Get out of the House
Once your loved one is no longer on bedrest, take him or her out as often as possible. While grand excursions will certainly be welcome, simple trips to the grocery store and dog park could be enough to boost his or her mood. Remaining stuck inside day after day will only encourage more negative feelings regarding any new limitations.
Call 800-770-7008 Today to Speak with a Motorcycle Accident Attorney in Minneapolis
If you or someone you love was hurt in a motorcycle accident, your family may be entitled to compensation for the resulting damages. To determine if you have grounds for a claim, contact Bradshaw & Bryant.
Our consistently superior results demonstrate our commitment to excellence in every case we handle. Call our office today at 800-770-7008 or use our Online Contact Form to set up a free consultation with a motorcycle accident lawyer in Minneapolis.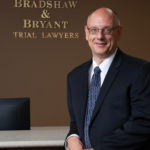 A founding partner with Bradshaw & Bryant, Mike Bryant has always fought to find justice for his clients—knowing that legal troubles, both personal injury and criminal, can be devastating for a family. Voted a Top 40 Personal Injury "Super Lawyer"  multiple years, Mr. Bryant has also been voted one of the Top 100 Minnesota  "Super Lawyers" four times.