Rollover accidents are responsible for thousands of traffic fatalities—and many more injuries—every single year. Even when riding in a vehicle with all the most advanced safety features, occupants are likely to get seriously hurt in the event that it flips.
If you were recently involved in a rollover incident through no fault of your own and you're planning on taking action, you're probably wondering how to proceed. For answers to some of the most frequently asked questions on the subject, read on:
1. Who Might Be Liable for a Rollover Accident?
Like other kinds of wrecks, there are a number of parties that could be found at fault for a rollover incident. The only way to assign blame is to conduct a thorough investigation, but some of the most likely culprits include:
• One or more of the motorists who was involved;
• A pedestrian or cyclist that was violating the rules of the road in the vicinity;
• A vehicle or parts manufacturer; and
• The municipality responsible for maintaining the roadways where the rollover occurred.
2. What Kinds of Damages Can You Recover After Getting Hurt in a Rollover Accident?
Minnesota allows car accident victims to seek compensation for virtually all the expenses they incur as a result of their injuries. Examples include medical bills, vehicle repairs, and the cost of reasonably necessary replacement services. Indirect expenses like lost wages are also recoverable, as are non-economic damages like pain and suffering, mental anguish, and loss of enjoyment in life.
3. How Long Do You Have to File a Suit Following a Rollover Accident?
Although most legitimate car accident claims are settled, a small percentage of them do end up in court. If the opposing party has reason to challenge your credibility or otherwise dispute your case, yours could be one of them, so it's imperative to keep the statute of limitations in mind.
In the state of Minnesota, injured parties typically have six years from the date on which they were hurt to file a civil suit founded on negligence. Since there are quite a few exceptions to this deadline, however, it's advisable to discuss your claim with a seasoned attorney as soon as possible.
4. Do You Need Legal Representation to Proceed with a Car Accident Claim?
While it's possible to represent yourself during personal injury proceedings, you have enough to worry about without taking on such an overwhelming task. What's more, most reputable firms accept cases on a contingency fee basis, which means they don't charge for their counsel unless they recover compensation on a client's behalf. In other words, you've got nothing to lose by enlisting legal help, but there's potentially a whole lot to gain.
Call 800-770-7008 to Discuss Your Case with a Minneapolis Car Accident Attorney
At Bradshaw & Bryant, we know how much devastation rollover accidents can leave in their wake. If you were seriously hurt in such a wreck, we'll help you navigate the claims process so you can pursue the compensation you deserve. To set up a free initial consultation with a car accident lawyer in Minneapolis, call 800-770-7008 or fill out our Contact Form.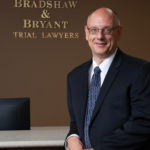 A founding partner with Bradshaw & Bryant, Mike Bryant has always fought to find justice for his clients—knowing that legal troubles, both personal injury and criminal, can be devastating for a family. Voted a Top 40 Personal Injury "Super Lawyer"  multiple years, Mr. Bryant has also been voted one of the Top 100 Minnesota  "Super Lawyers" four times.