If you were hurt on someone else's property, you may have grounds for a premises liability claim. Whether or not your claim is successful will depend on a variety of factors including your reason for being on the property and the strength of the available evidence.
Specifically, there are four elements that must be proven in order for any premises liability claim to result in a financial award. Those elements are:
1. The Opposing Party Was in Control of the Property
The party whom you name in your claim must have been in control of the property when the incident occurred. This may be the owner or the individual or business that was occupying or leasing the property at the time.
2. The Opposing Party Breached the Duty of Care
The duty of care owed to you at the time of your injury depends on whether you were an invitee, licensee, or trespasser. Invitees are usually people who are invited onto a property for business dealings with the property owner or occupier, such as a grocery store customer. Invitees are owed the highest duty of care. Property owners and occupiers breach the duty of care owed to invitees when they fail to inspect their premises for dangerous hazards. They also breach the duty of care when they fail to remedy dangerous conditions within a reasonable amount of time or to post warnings about those conditions.
There are many kinds of evidence your premises liability attorney might use to prove a breach of duty occurred. Examples include surveillance footage, the incident report, photos of the hazard that caused your injuries, eyewitness statements, and records of similar accidents on the same premises. It's important that your lawyer is able to compile this evidence right away since much of it could be altered or destroyed. For example, the hazard that caused your injuries might be fixed before it can be properly documented.
3. The Opposing Party's Negligence Was Directly Responsible for Your Injuries
The term "negligence" refers to one party's breach of the duty of care owed to another party. Even if the property owner or occupier was in fact negligent, it must be shown that this negligence was the proximate or actual cause of your injuries.
Below are a few examples of evidence your lawyer might use to prove causation:
• Eyewitness testimony;
• Footage from surveillance cameras on the premises;
• Photographs of the hazard in question;
• The property's maintenance records;
• The incident report;
• Medical records;
• Photographs of any visible injuries; and
• Statements from medical experts.
4. The Value of Damages Incurred
After proving that the defendant's negligence was the actual or proximate cause of your injuries, you must demonstrate the value of the damages incurred. Depending on the circumstances, you may be entitled to economic damages, such as medical bills and lost income, as well as non-economic damages such as pain and suffering.
Call 800-770-7008 to Discuss Your Case with a Minneapolis Premises Liability Attorney
If you want to file a premises liability claim in Minnesota, contact Bradshaw & Bryant. We will aggressively protect your interests at every stage of the proceedings. Our lawyers will prepare for trial even if we expect to reach an out-of-court settlement. Call 800-770-7008 or use our Online Contact Form to set up a free case evaluation with a premises liability lawyer in Minneapolis.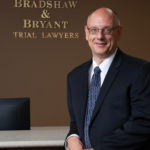 A founding partner with Bradshaw & Bryant, Mike Bryant has always fought to find justice for his clients—knowing that legal troubles, both personal injury and criminal, can be devastating for a family. Voted a Top 40 Personal Injury "Super Lawyer"  multiple years, Mr. Bryant has also been voted one of the Top 100 Minnesota  "Super Lawyers" four times.