There were nearly 150,000 accidental deaths in 2015 alone, making unintentional injuries the fourth leading cause of fatalities that year. Losing a close friend or family member is always devastating, but it can be especially traumatic if the death was totally unanticipated and entirely preventable.
Although suing those liable for such a loss will not bring the deceased back, knowing justice was served can provide peace of mind. Securing a settlement from the party responsible for the accident may also prevent any resulting costs from threatening the financial security of surviving relatives.
Let's examine some of the more common kinds of accidents that warrant wrongful death claims:
Motor-Vehicle Collisions 
Car accidents are one of the most common causes of unintentional injury deaths. In 2017 alone, there were more than 40,000 traffic fatalities.
If a family loses one of their own in a motor-vehicle collision, they may have grounds for a claim against:
Other motorists;
Vehicle or parts manufacturers;
The local municipality responsible for maintaining the roads; or
Another party. 
Slip and Fall Accidents 
Everyone stumbles on occasion, but no one should have to worry about slipping on a wet floor or tripping over a broken stair. When someone dies from injuries sustained in a slip and fall accident, surviving family members might be able to sue the property owner, shopkeeper, or local municipality responsible for maintaining the premises where the incident occurred. 
Medical Malpractice 
Medical malpractice occurs more frequently than most people realize, and it often has devastating consequences. Since medicine is far from an exact science, though, building a successful wrongful death claim against a healthcare provider or facility can be challenging. Fortunately, hiring a seasoned attorney can open the door to the resources needed to gather evidence of both liability and damages. 
Physical Violence 
If someone's death is the result of an intentional act constituting murder, surviving family members may file a wrongful death claim. Unlike cases that arise from negligence, those involving malice have no statute of limitations. That means plaintiffs may file a formal suit any time after their loved one has been murdered, regardless of how much time has passed. 
Call 800-770-7008 to Speak with a Wrongful Death Lawyer in Minneapolis 
If you lost a loved one in some kind of preventable accident, contact a Minneapolis wrongful death attorney at Bradshaw & Bryant. You may be entitled to compensation for all resulting damages, but you should not have to worry about navigating complicated legal proceedings alone.
Let our strategic team handle the logistics of your claim while you focus on taking care of your family. We offer free initial consultations and work on contingency fee contracts, so you have nothing to lose by speaking with one of our attorneys. Call 320-259-5414 or fill out our Contact Form to schedule a free case evaluation with a personal injury lawyer in Minneapolis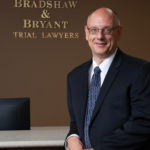 A founding partner with Bradshaw & Bryant, Mike Bryant has always fought to find justice for his clients—knowing that legal troubles, both personal injury and criminal, can be devastating for a family. Voted a Top 40 Personal Injury "Super Lawyer"  multiple years, Mr. Bryant has also been voted one of the Top 100 Minnesota  "Super Lawyers" four times.