Every year, between 80,000 and 90,000 Americans are diagnosed with long-term or permanent disabilities after sustaining a traumatic brain injury (TBI). Perhaps more devastating, however, is the fact that most of these injuries were entirely preventable. Leading causes of TBI include falls, car accidents, and assaults, the majority of which can be avoided when people exercise reasonable care.
Thankfully, if you or someone you love sustained brain damage, your family may be able to hold the liable party accountable. In order to do so, though, you're going to have to put together a strong personal injury claim.
While every case is undeniably unique, there are a few steps most claimants can take to increase their chances of securing a satisfactory settlement or verdict. Read on for some of the most effective strategies:
1. Follow All Medical Advice
It's imperative to follow your doctor's orders over the course of your recovery. Personal injury claimants have an obligation to mitigate damages, and that means making an active effort to facilitate the healing process. If you were to ignore medical advice, on the other hand, and suffer complications as a result, you could be deemed partially liable for the severity of your damages.
2. Stay off Social Media
Insurance adjusters often take to monitoring a claimant's online activity in an attempt to compile evidence that allows them to challenge his or her credibility. Since there's no way to stop them from misinterpreting—or misrepresenting—what you publish on social media, it's best to avoid posting altogether until your case has been resolved.
If that's not an option, at least make sure to adjust your privacy settings. When only approved connections can see what you publish, it will be a bit more challenging for the insurance adjuster to gain access to your profiles.
3. Preserve Documentation of Damages
You're going to have to present proof of all the damages for which you're seeking compensation. This might include receipts, bills, invoices, and estimates. It may also include insurance statements, medical records, journal entries, and psychological evaluations. Keep all such documentation in a safe place until you can give it to your legal team for review.
4. Avoid Giving a Premature Statement
The insurance adjuster will probably ask for a recorded statement fairly soon after they learn about the accident. Since giving one could essentially lock in the total damages, however, or open the door for disputes if you inadvertently say something that turns out to be untrue, it's best to refuse and instead refer the opposing party to your legal team.
Discuss Your Claim with a Brain Injury Attorney in Minneapolis
If you or a loved one is living with a TBI because another party was negligent, turn to Bradshaw & Bryant for strategic legal counsel. Our resourceful team will help you determine how best to proceed, so you can hold the liable party accountable. To schedule a free initial consultation with a brain injury lawyer in Minneapolis, fill out our Online Contact Form or call 800-770-7008.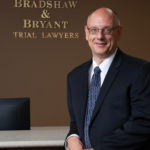 A founding partner with Bradshaw & Bryant, Mike Bryant has always fought to find justice for his clients—knowing that legal troubles, both personal injury and criminal, can be devastating for a family. Voted a Top 40 Personal Injury "Super Lawyer"  multiple years, Mr. Bryant has also been voted one of the Top 100 Minnesota  "Super Lawyers" four times.