Snowmobiling is one of the most popular winter sports in the North Star State. Parts of Minnesota get as much as 70 inches of snow per year, and whenever a layer of fresh powder touches down, the state boasts more than 22,000 miles of groomed trails.
As exhilarating as snowmobiling is, though, riders must keep in mind the risks they assume every time they start the ignition. Snowmobiles can tip over, collide with stationary objects like trees, and crash into other vehicles on the trail.
If you were seriously hurt while enjoying your favorite winter pastime, you're probably wondering how to hold the at-fault party responsible. While there's no foolproof way to ensure your personal injury claim yields a payout, you can give it the best chance of success by doing the following:
1. Stay off Social Media
There's a good chance the insurance adjuster will attempt to monitor your online activity. They'll be looking for any reason to challenge your credibility so they can deny or at least devalue your claim.
Since there's no way to be sure how they might spin what you post, it's wise to lay low as long as your case is pending. Limit your activity to generic posts that don't share anything about your recovery, your expenditures, or your social life.
2. Refrain from Giving a Statement
When the insurance adjuster asks for a recorded statement, it's best to avoid giving one. This is especially true if you have yet to reach maximum medical improvement or confirm what happened in the moments leading up to the wreck. Otherwise, you could say something that turns out to be untrue, giving them cause to question the entire foundation of your claim.
3. Preserve Evidence from the Scene
If you managed to photograph the scene of the accident before leaving the area, save the images on a secure cloud platform or external hard drive, so they don't get lost. Other evidence from the scene worth preserving includes statements from eyewitnesses, official reports from first responders, and any available helmet cam footage.
4. Record All Injury-Related Expenses
You can only seek compensation for the damages you can prove you actually incurred, so make sure to log all associated losses diligently. Save the receipts, invoices, and statements that correspond to any and all expenditures you wouldn't have incurred had you not gotten hurt. Your legal team will use these documents to determine a fair starting point for the negotiations.
5. Refer the Insurance Adjuster to an Attorney
Corresponding with the insurance adjuster directly opens the door for them to manipulate you into somehow hurting your case. They might try to get you to admit fault, for example, or to accept an unfair settlement.
As such, it's best to enlist legal help as soon as possible. Then, you can simply refer all correspondence to your attorney.
Call 800-770-7008 to Speak with a Snowmobile Accident Attorney in Minneapolis
If you were hurt in a snowmobile accident through no fault of your own, turn to Bradshaw & Bryant for strategic legal counsel. We'll investigate the circumstances surrounding the crash and help you determine how best to proceed. Call 800-770-7008 or complete our Online Contact Form to set up a free consultation with a snowmobile accident lawyer in Minneapolis.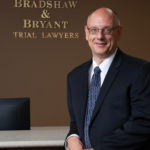 A founding partner with Bradshaw & Bryant, Mike Bryant has always fought to find justice for his clients—knowing that legal troubles, both personal injury and criminal, can be devastating for a family. Voted a Top 40 Personal Injury "Super Lawyer"  multiple years, Mr. Bryant has also been voted one of the Top 100 Minnesota  "Super Lawyers" four times.