Colliding with another vehicle is never good, but it can be especially devastating when the other vehicle happens to be a garbage truck. The force of impact in such collisions tends to overwhelm the smaller car, putting everyone inside at risk of serious injury.
If you or someone you love was hurt in a garbage truck accident, taking legal action won't erase what happened. It could, however, yield the money needed to pick up the pieces in the aftermath.
To give your family's claim the best chance of success, start by taking the following steps:
1. Preserve Evidence from the Scene
Photographs of the wreckage, statements from eyewitnesses, and reports filed by responding officers can all contribute to the strength of your claim. If you have any evidence from the scene of the accident, make copies to ensure redundancy, and then store everything in a safe place until you can give it to your legal team.
2. Refuse to Give a Recorded Statement
Fairly soon after the crash, an insurance adjuster will probably reach out and ask you to make a recorded statement. Since anything you say could end up being used against you as more evidence comes to light, it's best to decline the request.
In that same vein, avoid discussing the accident with the media. Should someone from the local press ask for a comment from your family, inform them that you do not wish to speak on what happened.
3. Follow All Medical Advice
If you fail to seek prompt medical care—or ignore your doctor's orders once you do—the liable party may claim that you failed to mitigate damages. This, in turn, could shift some blame your way, reducing the total compensation to which you're entitled accordingly.
4. Adjust Your Social Media Habits
It's natural to want to reach out to your friends and followers online for support during such a stressful time. Since the insurance adjuster will probably take to monitoring your social media activity, though, it's best to avoid posting anything at all about the accident. You should also consider toggling your privacy settings so only approved connections can see what you do publish.
5. Seek Legal Counsel
Going up against a sanitation company or municipality is inherently challenging as both have the resources to fight any actions against them. Thankfully, you can level the playing field by seeking exceptional representation.
A seasoned personal injury lawyer will have the knowledge, strategies, and experience to see your case through to the end, helping you pursue the maximum payout possible.
Call 800-770-7008 to Speak with a Truck Accident Attorney in Minneapolis
If your life was forever changed by a garbage truck accident, turn to Bradshaw & Bryant for help holding the liable parties accountable. Our compassionate team will investigate the circumstances surrounding the crash and then help you gather the evidence needed to pursue compensation for the associated damages. Call 800-770-7008 or use our Contact Form to schedule a free initial consultation with a truck accident lawyer in Minneapolis.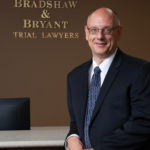 A founding partner with Bradshaw & Bryant, Mike Bryant has always fought to find justice for his clients—knowing that legal troubles, both personal injury and criminal, can be devastating for a family. Voted a Top 40 Personal Injury "Super Lawyer"  multiple years, Mr. Bryant has also been voted one of the Top 100 Minnesota  "Super Lawyers" four times.