Despite laws that aim to ensure the safety of consumer goods, defective products hit the shelves every single year, and when they happen to be toys, it's usually young children who end up getting hurt. If your son or daughter sustained serious injuries while playing with a defective toy, your family may be entitled to compensation for the resulting healthcare costs and other damages.
For your product liability claim to be successful, your attorney will have to identify the liable party. Any party that played a role in the development or distribution of the toy could be responsible for the defect; however, most of these cases are brought against one of the following parties:
1. The Designer
If it turns out that a design defect was responsible for your child's injuries, you would probably bring the claim against the original designer. A design defect makes a product dangerous when used in a reasonably foreseeable manner. These defects impact every item in the product line, as opposed to manufacturing defects, which might only affect a limited number of goods.
Determining whether a design defect exists will require a comprehensive evaluation. An attorney can review the facts of your case and perhaps consult with a product specialist to determine if defective toy design may have played a role in causing your child's injuries.
2. The Manufacturer
Sometimes a toy's design is perfectly safe, but the materials or techniques used during production are not. If only a few toys in the line were defective, it's possible that the manufacturer would be liable.
3. The Package Designer or Marketer
If the toy's packaging came with insufficient instructions or inadequate warnings, you might have grounds for a claim against the package designer. The company that was hired to market the product may also be to blame for injuries caused by using the toy incorrectly. If the commercial includes a shot of a child playing with the toy in the bathtub, for example, but it's not actually safe to submerge, you might be able to bring a claim against the advertising agency.
4. The Retailer
Some products must be stored in a certain way to ensure safe functionality. For example, toys that contain batteries shouldn't be exposed to extreme heat or humidity. The way a retailer stacks its inventory could also contribute to defects because the weight of the tower could affect the structural integrity of the items at the bottom.
Call 800-770-7008 to Discuss Your Case with a Minneapolis Product Liability Attorney
The personal injury attorneys at Bradshaw & Bryant understand the financial impact that unanticipated injuries can have on the whole family. That's why we are committed to getting our clients the results they deserve.
Call 800-770-7008 or use our Online Contact Form to set up a free case evaluation with a product liability lawyer in Minneapolis. A member of our team will come to you if you are unable to come to us.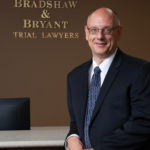 A founding partner with Bradshaw & Bryant, Mike Bryant has always fought to find justice for his clients—knowing that legal troubles, both personal injury and criminal, can be devastating for a family. Voted a Top 40 Personal Injury "Super Lawyer"  multiple years, Mr. Bryant has also been voted one of the Top 100 Minnesota  "Super Lawyers" four times.